In a world of culinary delights ranging from gourmet gastronomy to hearty home cooking, we have even more ingredients available to us than ever.
It therefore makes sense to know about your ingredients and, wherever possible, to use the fresh article instead of dried or powdered.
Peppers are a culinary must and crucial in the world of cooking. They vary, not only in heat and price but also in their growing needs, and fertilizing. Here we bring you a comprehensive list of peppers and their required fertilizers.
These perennial plants are native to tropical America and specifically important in the cuisines of tropical Asia.  They are grown as tender summer annuals – plants that perform their entire life cycle from seed to flower.
Peppers are propagated by directly seeding in the soil. In other ways, transplanting seedlings started in greenhouses or hotbeds after 6 to 10 weeks of the initial planting.
The plants bloom with paired or solitary flowers that are small with five white petals. Its fruit is a berry.
Fertilizers for Peppers
To always consider the critical growth of the Pepper plant when it comes to fertilizing, moderation is the key.
It is highly recommended not to fertilize pepper plants immediately or within the first week of transplanting, especially if using a high nitrogen fertilizer. This might cause an overabundance of green growth.
All our known Pepper plants may get some nutrients from the soil, air, or water; however, these are not enough if you want to achieve a high yield.
What Nutrients Do Peppers Require, And What Qualities of Fertilizers Are Best For Them?
Nitrogen.  It helps promote the development of foliage and fruit.
Phosphorous.  This is essential for the plant to absorb enough sunlight and for strong root development and robust fruit.
Potassium.  This is a crucial nutrient for a Pepper plant that helps absorb water and other nutrients through the plant.
All the above three nutrients (also known as N, P and K) play vital roles in plant growth.
When you know the nutrients a Pepper plant needs, it is much easier to look for the best fertilizers for your Pepper plants. They are considered:
The Primary Nutrients for All Pepper Plants:
Calcium. It fortifies pepper fruit and leaves cells. It is a secondary nutrient for a Pepper plant.
Magnesium. This is essential for a leafy and green plant. It is also the secondary nutrient of a Pepper plant.
Getting the best fertilizer for your Pepper plants depends on your soil.  It is very important to get it tested first to discover the nutrient content before making any amendments.
A balanced fertilizer works for peppers, although if the soil testing shows that it has enough phosphorus, you must choose a low- or no phosphorus fertilizer.
We all know that Nitrogen is essential for stimulating good pepper growth, but you also must know the best time to fertilize peppers to get the best results.
Here are the suggested 4 best fertilizers for Peppers by expert gardeners.
1. Pepper & Herb Fertilizer with Micronutrients
Pepper & Herb Fertilizer is to provide a balanced ratio of nutrients most essential for Pepper plants. It contains the three vital nutritional components, which are nitrogen (N), Phosphorous (P), and Potassium (K) with a ratio of 11-11-40.
Most likely, many pepper fertilizer formulations have more potassium or phosphorus than nitrogen which is best for plant growth especially in vegetable production.
With all the nutrients present in Pepper & Herb Fertilizer, it qualifies as the best pick for your Pepper plant that has all the nutrients that will help the plant reach its full potential including micronutrients.
This Pepper fertilizer comes with easy-to-follow application instructions. It's water-soluble and dissolves quickly.
This is also best suitable for Peppers grown in hydroponic systems. It is free of harmful chemicals, heavy metals and 100% safe for the environment.
Here Are the Pros of Pepper & Herb Fertilizer with Micronutrients
It is free from harmful chemicals or heavy metals.
It easily dissolves in water.
It works great in both soil and hydroponic application.
It includes micronutrients in chelated form.
Here Are the Cons of Pepper & Herb Fertilizer with Micronutrients
It doesn't contain calcium.
2. Earth Fertilizer
This fertilizer is highly recommended by experts and on top of the list for you to enjoy nutritious and tasty peppers. It will also add life to the soil.
As a TruBiotic, which is a combination of soil microbes and mycorrhizae, the nutrition ratio for this Dr. Earth fertilizer has an NPK ratio of 4-6-3 and contains 7.5% calcium.
This fertilizer is popular for multiple reasons especially because it is organic, has no chemicals, and is rich in primary plant nutrients, the total value of NPK.
Another good point about this fertilizer is how it releases nutrients. It provides consistent nutrients for several months, releasing some of them right after feeding.
Whenever you've started using this fertilizer, your vegetable garden, you will not need any other supplement or chemical plant nutrition.
Dr. Earth has been formulated to increase plant performance by increasing the soil nutrient availability.
Here Are the Pros of Dr. Earth Fertilizer: 
It is an organic fertilizer and a-must-have fertilizer intended for organic vegetable gardeners
It is made from natural ingredients, GMOs, or chicken manure
It promotes root growth for a bountiful harvest
To continue using will improve the soil and increase the drought tolerance of the plants
It is an Eco-friendly and pet-friendly fertilizer
It is very useful and could be added to the compost pile to speed up the process.
It is formulated and derived from natural products like fish meal, alfalfa meal, fishbone meal, kelp, and feather meal.
Here Are the Cons of Dr. Earth Fertilizer: 
It has an unpleasant scent. Most likely, not applicable for indoor plants.
It can ignite and infect the plant with fungus gnats or powdery mildew.
3. Espoma Organics Fertilizer
This garden tone fertilizer can be used for any warm or cool season.  This fertilizer is highly recommended by experienced gardeners for Pepper plants.
It has Bio-tone microbes that ensure long-lasting, slow-release feeding, and tend to enhance the flavor and nutritional value of any pepper variety.
The best time to use this fertilizer is right before planting by adding it to the planting hole and mixing it well.
The NPK ratio of Espoma Organics is 3-4-4 and contains 2.2% slow-release nitrogen, 5% calcium, and 1% magnesium.
It is an organic fertilizer and the most prominent ingredients in this fertilizer are alfalfa meal, feather meal, bone meal, and poultry manure. A homegrown fertilizer.
Here Are the Pros of the Espoma Organics Fertilizer
It has no fillers or sludge.
It is specifically designed for homegrown vegetables like peppers.
It is 100% organic fertilizer made from natural ingredients
It tends to Increase your seasonal harvest of peppers as it produces more fruits.
It is easy to use for single plants or rows of peppers.
Here Are the Cons of the Espoma Organics Fertilizer
It can generate the growth of white fungus on the surface of the potting/garden soil.
It is not suitable for hydroponic gardening.
It has an unpleasant smell and can attract flies.
4. Miracle-Gro Fertilizer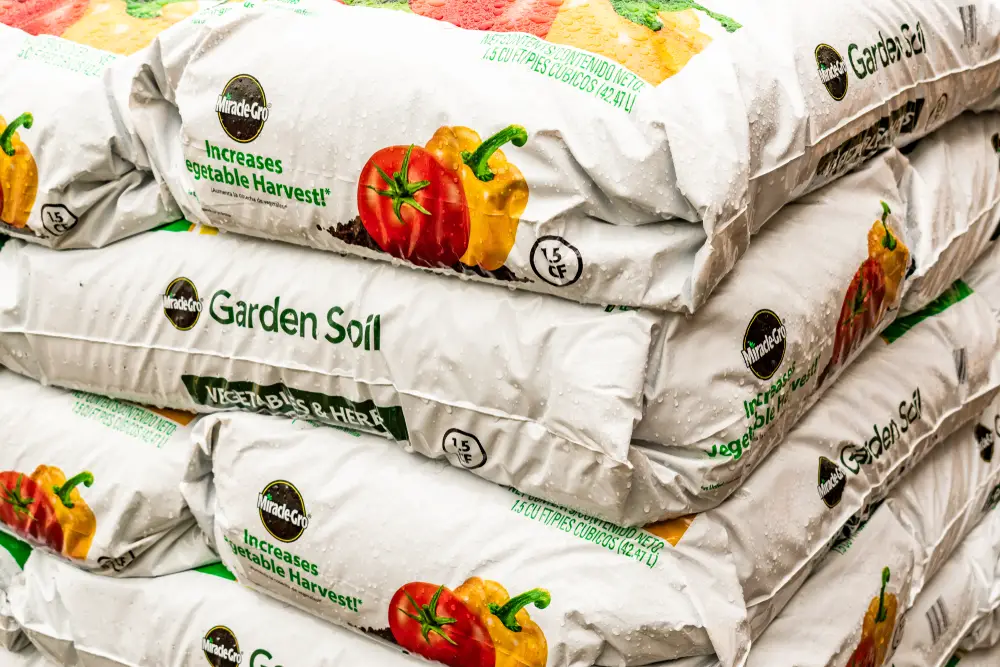 This fertilizer is trusted by gardeners and horticulture experts throughout the world. The NPK ratio of this all-purpose fertilizer is 11-3-8, but it's also enriched with micronutrients.
All these micronutrients play a vital role in the quality, quantity, and taste of homegrown peppers.
As much as you want to increase the number of peppers on your plant, it is best to feed with this fertilizer every week in the growing season.
Your plants will be loaded with colorful peppers.
Here Are the Pros of the Miracle-Gro Fertilizer
It will immediately feed the plant to revive a wilting pepper plant.
It has a long-lasting – a single packet that can cover an area of 200 sq ft.
It is so easy to use because you can feed a large area while watering.
It can be applied to potted plants, both outdoor and indoor.
It is guaranteed to produce two times more fruits and vegetables.
Here Are the Cons of the Miracle-Gro Fertilizer
It has a strong smell.
It might not dissolve well in water.
It could infect the plant with small flying insects and gnats.
Final Thoughts 
Always remember that it's essential to keep your pepper plants well fed as they will quickly grow big and need support to handle all the growth of all the vibrant peppers.
We hope this guide (of hot tips!) will give you insights and different options for choosing the best fertilizer for your Pepper plants.
Jenny Marie
Tribal Writer
Edited By
Patricia Godwin