Coffee grounds are the final product of brewing coffee. After extracting coffee from coffee beans, coffee grounds are regarded as waste materials. Your plants have many uses for coffee grounds.
Cucumber plants like coffee grounds and coffee grounds have many benefits for cucumbers and other plants because they are rich in nitrogen and mildly acidic. Coffee Grounds improve the soil texture and make for good compost for cucumbers. Coffee grounds also have many other uses for cucumbers.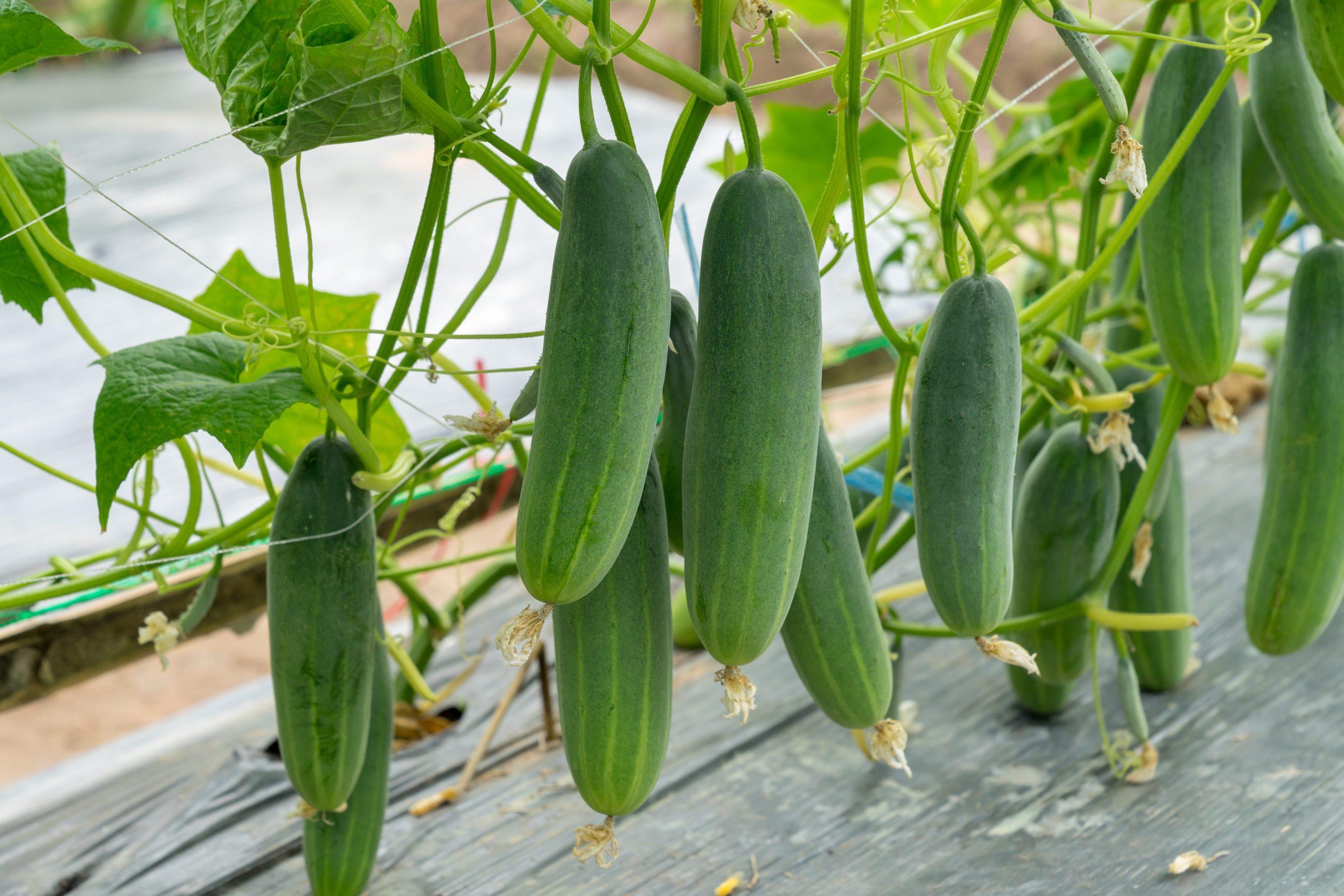 Here are some beneficial uses of coffee grounds and details of how cucumber plants can benefit from coffee grounds:
Coffee Grounds Improve Soil Texture
Soil that has been added with a thick layer of coffee grounds will form into a compacted crust that is almost water- impermeable. Coffee ground merged with soil improves the organic content and texture of the soil.
Coffee grounds breakdown slowly. They continuously release nutrients and nitrogen to plants. They also keep the soil aerated and loose. Coffee grounds are beneficial to the soil that is heavy and alkaline like clayey soils.
If you water your garden with generally alkaline tap water, coffee grounds' acidity will neutralize the soil.
Coffee Grounds Make Soil Acidic
Coffee grounds are slightly acidic or have close to pH neutral with a pH level of between 6.5 pH to 6.8 pH.
Cucumbers grow better in soil with pH level 6.0 pH to 7.0 pH.  They like soil that is moderately acidic or a bit more alkaline as long as it drains well and is substantially fertile.
The higher the pH level of the soil, the less prone cucumbers will be to fungal disease. If the soil does not reach the required specification, add amendments, such as coffee grounds, to increase or decrease the pH level.
Cucumber plants like acidic soil and coffee grounds make the soil acidic.
Coffee Grounds Make Good Compost
Well-aged compost is the best food for cucumbers. You can buy bulk compost from nurseries or garden centers, buy commercial bags of compost, make your own compost.
Including coffee grounds along with other garden and kitchen, waste creates a good compost pile.
A compost heap needs green and brown materials. Coffee grounds, although they are brown, are like weeds and grass cuttings and make up the green waste. So, do use paper coffee filters. They add nitrogen, moisture, and other nutrients to the compost pile.
Green waste materials need to be balanced with brown waste materials such as newspapers and dry leaves. The brown to green compost material should have a 3:1 ratio.
A compost pile with too many green waste materials will smell. Too little, on the other hand, will not make the compost pile heat up.
Even if coffee grounds no longer contain liquid, they still contain many carbohydrates, fatty acids, and proteins that provide microorganisms with nutrients that turn organic waste into compost.
The addition of coffee grounds to the compost pile hastens microbial activity. More microbial activity increases its internal temperature and, in turn, kills many fungi and pathogenic bacteria.
The downside of including coffee grounds in the compost pile is that it tends to make it too acidic. This happens most especially when coffee grounds are added in large quantities. This can, however, be remedied by sprinkling some wood or lime over the coffee grounds.
Cucumbers benefit from a compost pile that includes coffee grounds because they improve the soil's structure and fertility. A compost with coffee grounds also provides more nitrogen and creates ideal nitrogen to carbon ratio that is good for cucumbers' growth.
A compost pile only contains 2% nitrogen that is released slowly over a period of time. It also adds reserves of nutrients that remain in the soil for a long time. It will also not cause runaway vegetative growth that can affect the fruit.
Coffee Grounds Contain Many Nutrients
Coffee grounds contain a lot of potassium, phosphorus, magnesium, nitrogen, and other nutrients plants need to grow healthy and strong.
Coffee grounds have high nitrogen content and magnesium, and cucumbers require these nutrients to grow well.
Cucumber plants grow well in organic and rich soil. If the soil is already rich in nitrogen, coffee grounds can provide the extra boost for the cucumber plant to grow better and healthier.
Coffee Grounds Suppress Diseases
Coffee grounds suppress some diseases such as wilts and fungus rots on cucumber, tomato, bean, and spinach plants.
Coffee Grounds as Fertilizer
Coffee grounds are not only ideal for compost that can be used with cucumber plants. Coffee grounds can be used as fertilizer and sprinkled directly into the soil.
While coffee grounds will increase the compost's nitrogen content, they will not immediately make soil have nitrogen.
Coffee grounds as fertilizers add organic materials. Organic materials improve aeration, water retention, and drainage that will benefit the cucumber plant.
Coffee grounds will also attract earthworms and help microorganisms beneficial to the growth of cucumber plants.
Many people think that coffee grounds tend to lower or raise the pH level (acidic level) of soil which is good for cucumbers. Coffee grounds have a neutral pH. if washed, coffee grounds have an almost neutral pH.
If you intend to use coffee grounds as fertilizer for your cucumber plants, sprinkle them into the soil around the cucumber plants and leave them. You can add the coffee grounds straight to the soil or scratch them into the top 2 or 3 inches of the soil.
You can also make "tea" out of the coffee grounds. Pour 2 cups of coffee grounds into a bucket with 5 gallons of water. Allow the "tea" to steep overnight. This concoction can be used as a liquid fertilizer for your cucumber plants.
The best time to sprinkle a balanced all-purpose fertilizer, such as coffee grounds, to cucumber plants is when there are already blossoms.
Feed Coffee Grounds to Earthworms
Coffee grounds contain nutrients that are attractive to earthworms. Earthworms take with them particles of coffee grounds into the depth of the soil.
You can create a worm bin and add coffee grounds every week. Worms like coffee grounds and adding a small number of coffee grounds to your worm bin is perfect.
Coffee Grounds in Mulch to Suppress Weeds
Fresh coffee grounds can suppress weeds, and cucumbers are sensitive to too many weeds. Coffee grounds can suppress the growth and spread of weeds in mulching around cucumber plants. Coffee grounds may also be dug into the soil to proteins rich in nitrogen to the soil.
Cucumbers do not like weeds because too many of them can reduce airflow due to overcrowding. Mulching your cucumber bed will suppress weeds while keeping moist soil.
Suppress Pests
Sprinkling some used coffee grounds around your cucumber plants as well as on the topsoil can help thwart some pests. While coffee grounds will not completely eliminate pests, they can minimize the damage pests can cause in the garden.
Coffee Grounds as a Pesticide
Wilting lettuce leaves, cucumbers, and tomatoes are vulnerable to slug damage because they are the top 3 favorite slug foods. To prevent slugs from damaging cucumber plants, spread coffee grounds around them.
There are two theories why slugs do not go near coffee grounds: coffee grounds have abrasive texture, and the caffeine in coffee grounds is not good for slugs.
How to Use Coffee Grounds in your Garden
Coffee grounds should be appropriately used in vegetable gardens because too much of them can affect your garden negatively.
Here are a few tips on the proper way to use coffee grounds in your vegetable garden.
Make alkaline soil acidic.
• Perform a soil test to determine the pH level of the soil.
• Mix coffee ground and soil with a 35% ground-to-soil ratio.
• Spread the coffee grounds on the soil.
• Cover the grounds with bark mulch, compost, or leaves.
• Till the coffee grounds in the soil are about 6 to 8 inches deep.
This will improve magnesium, phosphorus, potassium, and other nutrients. For every cubic yard of coffee ground, about 10 pounds of slowly-released nitrogen is made available to the plants over the long term.
Plants that like acidic soil will also benefit from the addition of coffee grounds to the soil. Coffee grounds are good for vegetables, including cucumbers, because they enhance tilth and promote microorganism growth.
Spread coffee grounds on the soil.
It is not advisable to use coffee grounds when creating a thick mulch because they will tend to be compact and form a barrier that will prevent the passing of water and air.
The better way is to spread coffee grounds on the soil.
Spread a thin layer of coffee grounds, about half an inch, on the top of the soil.
Cover the coffee grounds with about 2-4 inches of organic matter (wood chips, shredded bark, or compost).
Creating compost with coffee grounds
Adding coffee grounds to compost is the safest and most effective way of using it in your vegetable garden. The coffee grounds should only be about 10% to 20% of the compost's total volume. Too many coffee grounds in compost will prevent good microbes from breaking down and becoming organic matter.
You can also prepare a 4:1 ratio of shredded leaves and coffee grounds based on weight. You can also add, although not necessary, some wood ash or lime. Add 10 pounds of coffee grounds for every cup of wood ash or lime.
If you intend to use coffee grounds for your plants, you do not need to be consuming a lot of coffee. You do not even need to be a coffee drinker.
There are many places where you can get free coffee grounds.
Coffee Shops
Many major coffee shops are more than willing to give away free coffee grounds. Starbucks, one of the most popular coffee brands, started the "Grounds for Your Garden" in 1995. The program provides free coffee grounds in select stores permitted by local codes.
Diners
Diners operating early in the morning until late at night serve a lot of coffee. They also give away free coffee grounds.
Convenience Stores and Gas Stations
These establishments also have a lot of coffee grounds. They will set them aside if you offer to get them.
Offices
Your office most likely has a coffee maker. You can ask your co-workers to throw the coffee grounds in one trash can.
Your Home
If you or anyone in your home is a coffee drinker, you can have a separate trash can for the coffee grounds.
Final Thoughts
Adding coffee grounds to your vegetable garden does a lot of wonders. Cucumber plants benefit a lot from coffee grounds, especially the extra nitrogen and the soil's acidity.
Use coffee grounds in moderation. Too many coffee grounds will cause their small particles to lock together and create a barrier that will make the garden water-resistant.
Jenny M
Tribal Writer
Edited by
Patricia Godwin