Far too often, ground covers are ignored, overlooked, pushed into the background, dismissed as having no functionality! Take a look at the following, and see what I mean.
Ground Covers Get Everywhere!
• My garden has a slope too deep for lawnmowers: I can't plant anything there.
Why not – can think of many serviceable and lovely ground covers for this
• I have a shady tree with massive visible roots under it – will anything else grow?
 Many ground covers can do this job well, cascading prettily over the roots.
• Is it possible for me to create a uniform border along my driveway?
Ground covers are perfect for this sort of thing and will be your driveway asset!
• What can plant in my garden to walk on without having to mow?
Ground covers are a perfect answer to this – choose carefully to avoid mowing.
Ground Covers Are Your Friends
Most people forget about ground covers when planning a garden. Yet, you can already see that they are not only functional, but they can also make a lovely display in places where it would be impossible with other flowers.
Here's an idea:
• Walk around your garden and 'inspect' it carefully.
• Pretend it belongs to someone else
• Make a plan of it to create a design to update it.
1. Bugleweed (Ajuga Reptans)
Bugleweed is a purplish perennial ground cover – a member of the mint family, and in zones 3 to 10 inclusive, it grows best in average to moist soil with full sun to partial shade.
To see the different zones, click here!

There are other unique species of this ground cover plant called black scallop bugleweed, and the flowers are entirely black.
2. Canadian anemone (Anemone Canadensis)
Canadian Perennial Canadian anemone hailed as a US native wildflower that spreads well in zones 3 to 8, with a moist soil preference. Its little white flowers thrive in full sun to part shade. They grow to between one to two feet high and look like mini white flowers amongst the green.
3. Candytuft (Iberis sempervirens)
Candytuft is a woody, mounding perennial that likes full sun and well-drained soil, and tolerates drought

. It will probably grow to around 12 inches tall and is suitable for zones three to eight. If this groundcover is planted in warmer climates, it takes on an evergreen look and makes the grass look covered in white lace.
4. Creeping Phlox (Phlox Subulata)

This ground cover makes a bold statement as a carpet of color in shades of pink, blue, or white. Leaves are small and evergreen. This plant stands up to light foot traffic and looks lovely; flowing over slopes and pouring down garden walls is a lovely sight. Being a native variety, it is appropriate for zones 3 to 9 that are perpetual in most districts. These plants are about two inches tall and may exceed 6 inches when in bloom. Full bloom is from March through May, inclusive. Provided it is planted in the sun to part shade, with average soil and moisture.
5. Creeping Thyme (Thymus superphylum)
Creeping thyme is a wild variety of the herb. It's wonderful between stepping stones. Lightfoot traffic releases a delightful minty aroma. Hardy in zones 4 to 8, this woody perennial likes well-drained dry to average soil and full sun. It's drought-tolerant and evergreen in mild climates. It reaches about three inches high and has small, round, glossy green leaves and spikes of tiny pink-purple flowers from June through July.
6. Deadnettle (Lamium Maculatum)
They are thriving remarkably well in zones 3 to 8 in part to full shade. It is evergreen in temperate zones. Leaves are variegated green and silvery-white, and pretty pink blossoms appear all through May to the end of July.
This drought-tolerant plant prefers cool, low-humidity, or arid regions, with well-drained soil. Its varieties fluctuate in height from several inches to about two feet. To grow these different species in a clumping or creeping manner; is to form an interconnected network that pushes out weeds and prevents soil destruction.
The short type is great for squeezing into those narrow spaces in between the paving stones; as well as in the rockeries and the border gardens, where you want to inhibit weed growth.
7. Hosta (Hosta sieboldiana)
These are reliable ground covers. The leaves are green and vary from forest to lime green to variegated green and then white. Blooming is inflorescent, with tall spikes of small white or pale purple blossoms appearing from May through July. Some varieties are sweetly scented.
Also called Plantain Lilies, they are perfect for zones 3 to 8. Most of these plants favor shade and rich, damp soil. Some of these plants grow to as tall as 2 feet high.
8. Horned Violet (Viola Cornuta)
These Horned Violets are with green, rounded leaves. Their beautifully scented, two-toned blossoms are in shades of purple and blue. They bloom from April through June. They are perennials in temperate climates.
They grow to approximately 6 to 8 inches in height, so creeping Horned Violets are suitable for zones 6 to 11. They respond well in average soil and moisture and do best in full sun to part shade.
9. Japanese Pachysandra (Pachysandra terminalis)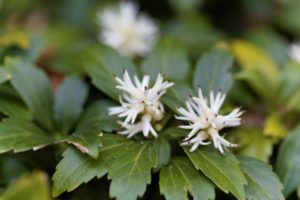 This is an evergreen perennial that's perfect under shrubs where grass doesn't want to grow. Cuttings take root really fast. They quickly make a pretty bed of glossy green whorled (i.e., spiraled) leaves that not only hide the tree roots but protect them from further lawnmower damage. In April, therefore, spikey white blossoms add to the other attractions of the garden. It would grow remarkably fast and well in zones 5 to 9. option; It's drought-tolerant, it does best in part to full shade and reaches a height of about 12 inches.
10. Liriope (Liriope Spicata)
This plant is also known as lilyturf. You could have this hardy perennial beneath your front garden rosebush

for a good pairing. Being a grass-like plant, its clumping and creeping varieties may reach one to two feet tall.
Its blossoms are shaped in spikes and colored blue, white, and purple. They appear at their best in August and September. Some plants have green foliage, while others are variegated.
Liriope thrives in the sun as well as shade and likes moist, rich soil. It's suitable for zones 5 to 10. Some turn brown in the winter but then freshen up nicely in the Spring.
Liriope can create pretty garden borders and is good at obstructing soil erosion on slopes. It's also excellent under trees where you just can't seem to get the grass to grow.
11. Lithodora (Lithodora diffusa)
If you look very closely at a Lithodora plant, it is the tiny, bright blue blossoms that catch your eye.
This plant likes part shade – particularly in hot regions – and must have well-drained soil.
Excellent for zones 6 to 8, it can endure light foot traffic, and this plant could reach 12 inches in height. It has small, hairy green leaves attached without stalks, making for a low profile.
Lithodora blooms vigorously in May, then occasionally through August. In temperate zones, it is a perennial.
The plant is on the annual/perennial cusp; if you layer your plant well with mulch

and you have a mild winter, it should return next Spring.
One thing I very quickly had to learn about this plant, is that it won't spread out and naturalize if it has any competition from native weeds and wildflowers

. Perhaps it's not competitive, but that's very sad.
Make sure you give your new ground covers plenty of room to grow. Once established, their matted root networks should squeeze out the competition.
12. Pig Squeak (Bergenia Cordifolia)
Pig squeak is a perennial whose name comes from the squeaky sound the leaves make when you rub them between your fingers. It's suitable for zones 3 to 8 and grows best in part to full shade.
Pig squeak is a clumping plant with shiny, dark green leaves and stalks of lovely pink blossoms that look a bit like miniature bells. It blooms best in April and May. It's a slow-grower that could exceed 12 inches in height. This plant is drought tolerant.
13. Spike Speedwell (Veronica Spicata)
This plant is often called royal candles. It is a clumping perennial that is suitable for Zones 3 to 8. It has narrow green leaves that form a base for tall spikes comprised of tiny blossoms in colors of purple, blue, pink, or white. Bloom time is June through August.
This plant enjoys full sun, moist, and well-drained soil. It grows to approximately 12 inches tall. Group plantings of different colors merge into a vibrant blanket of many hues.
14. Sweet Woodruff (Galium odoratum)
This fragrant perennial plant has pretty star-like white blossoms an top of whorled (spiraled) green leaves. It blooms during the months of May and June.
Perfect for zones 4 to 8, this plant likes to grow in part to full shade and moist, well-drained soil. It reached a height of about 8 inches and naturalizes rapidly. This variety is excellent as an underplanting beneath shrubs.
15. Wishbone Flower (Torenia Fournier)
Wishbone flower is also called Bluewings or Clown Flower. It is an annual that is happiest and grows best, in part to full shade.
It is exceptional in zones 2 to 11. It prefers moist but well-drained soil. The flowers of Wishbone are trumpet-shaped in shades of purple, pink, white, and yellow. The leaves are pale green and an oval shape.
Wishbone is required for its ability to produce vibrant color all summer, in the shadiest places in a garden.
Carpets of Color
Ground covers are a versatile garden choice. They're perfect for uneven ground and make an attractive alternative to a sea of green grass. Also, when planted beneath ornamental shrubs

, they make a sound weed barrier.
When you select plants, bear in mind that the native types are the most vigorous in growth, and they require the least amount of maintenance on your part. Think about mixing together some of the varieties. That way, you could achieve an attractive array of color, texture, shape, and even hardiness.
Remember that Evergreens provide lots of winter interest, while deciduous varieties disappear entirely during the cold months, leaving you looking forward to their return in the Spring.
I think it brings texture to a garden. Although you might like to have an evergreen garden – and a great many people do; I still prefer a deciduous one that's always reinventing itself, always presenting a different part of itself. One that has so much depth and versatility; it's always bringing joy from another aspect that has just emerged for your pleasure!
Patricia Godwin