Growing and maintaining a lush green lawn does not have to be a grueling chore.
Lawns are low in maintenance and usually grow in healthy soil, rain, sunshine, and fertilizer. That is, of course, if you choose and plant the right grass for your area.
There are numerous types of grass. Each type of grass falls under the warm-season grasses and cool-season grasses. 
Planting the right lawn grass will allow you to enjoy a beautiful and lush green yard.
Planting just any type of grass will entail many struggles and difficulties to keep your grass healthy and green.
How do you decide which is the best type of grass for your yard? Read on and discover how to pick the right grass. 
Most Popular Types of Lawn Grass
Warm-Season Grasses
Warm-season grasses actively grow between April and October. During the winter months, they usually are dormant and may turn brown. They will once again turn green with the return of warm temperatures.
Warm-season grasses are drought and heat-tolerant.  They thrive well in the warm-weather regions with temperatures between 27°C – 35°C (80°F and 95°) such as in Southern and the Southwestern United States, including California, Texas, Alabama, and Florida.
Grass Type
Appearance
Soil Type
Light
Requirement

Drought
Tolerance

Growing
Season

Foot
Traffic

Growing
Habit

Bahia
-Light Green
-Rolled or folded
-Sharp-pointed tip
-Medium to broad blade
Most Types
Full/Moderate
YES
Late spring to summer
Moderate-High
Spreads and grows slowly to form thick and lush grass
Bermuda
- dark blueish green
-Folded
-Sharp-pointed tip
-Narrow blade width

Light Textured
Full
YES
Late spring to summer
Moderate-High
fast-growing
grows to be thick and forms a dense lush of grass

Buffalo
grayish-green color.
-Curly leaves
Well-drained soil
Full
YES
Late May through early September
Low
spreads runners (stolons)
Thin growth

Centipede
Light Green
-Folded
-Sharp-pointed tip
-Medium blade width
Tolerates Acidic and sandy soil
Full/Partial
NO
Late spring through summer
Light
Spreading
Stolon

St. Augustine
blue-green color
Coarse and wide leaves,
Pointed tips
Prefers Sandy
Full/Partial
NO
During spring and summer
Moderate
Thick lawn with a coarse lush.
Zoysia
-Light to medium green
-rolled
Slightly Acidic
Full/Partial
YES
Early spring through late fall
Moderate
Spreading
Stolon
Rhizomes
Low-growing
Bahiagrass

Bahiagrass is a perennial grass with a coarse texture, rougher than other turfgrass. It grows well in subtropical climates and does well in the south-east and Florida.
This grass can grow in acidic, sandy, or any soil conditions. It is drought-resistant and can tolerate heat. Bahiagrass is green only during its growing season (late spring to summer). You can plant Bahiagrass with Ryegrass (cool-season grass), so it will look green and lush throughout the year.
This type of grass is strong and can easily handle heavy foot traffic. It is also low in maintenance. Its growing habit makes it prone to common lawn weeds.
Bahiagrass spreads and grows slowly to form a thick and lush yard. It has hairless grass blades and can have a width of up to 0.23 inches.
You can easily recognize this type of grass because of its folded and flat blades with a sharp point.
Bermuda Grass
Bermuda Grasses are also called wiregrass. Originating from Africa, they are growing throughout South Carolina. The blades themselves have a dark bluish-green color and are recognizable by their flat, thin, short blades, and rough edges. This type of grass can tolerate heat and drought because of its deep root system.
It grows to be thick, and its formation is dense and lush. Bermuda grass is popularly grown in the Central United States. It comes with a high maintenance requirement, which means it needs to be watered, fertilized, and mowed often.
Bermuda grass not only grows aggressively even in poor soil conditions, but it also has a high tolerance to weeds. However, Bermuda grass has to be planted in bright, light,  sunny areas with little shade. The soil also needs to have good drainage.
Bermuda grass needs to be frequently watered. This grass grows well and very fast to create a thick turfgrass during the growing season (late Spring to Summer); thus, you will need to mow more often. You can cut the grass to be very short, so you do not have to mow so often during the summer.
Bermuda grass is hardy so that it can withstand high foot traffic. During the summer months, overseeding your lawn with rye will keep it green during the winter months.
Buffalo Grass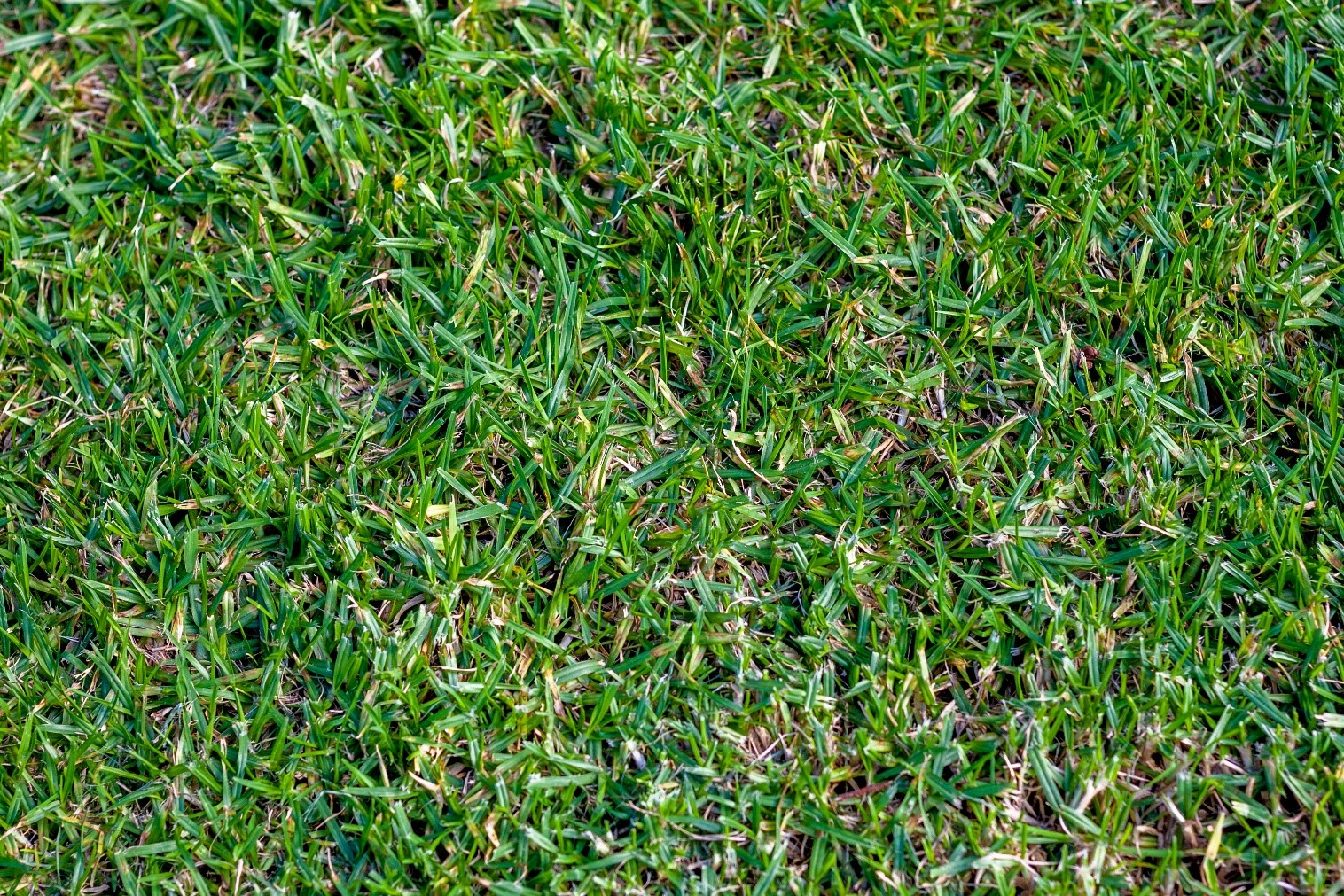 Buffalo Grass has a fine texture, a greyish-green color, and curled-tip leaves.  Although Buffalo Grass is a warm-season grass, it can grow anywhere in the United States; however, it's most prevalent in Texas, California, and the Southern States of America.
This grass can tolerate drought and heat and grows best in hot sunny – even arid – areas with low rainfall. It will not grow well if planted in shaded areas and with high foot traffic.
Because it has short blades, it is easy to maintain in hot climates. However, it also makes it prone to weed growth. This grass type grows to become an acceptable turf. It retains its natural color even in drought areas.
Buffalo grass grows on well-drained soil and is low in maintenance. It does not need to be watered and fertilized and requires little mowing. It can grow to up to 10 feet when not mowed, but mowing can keep the height to about 3 inches.
Buffalo grass will spread throughout your yard through runners and will form into a thin and attractive turfgrass. Its growing season is from the latter part of May to early September.
Centipede Grass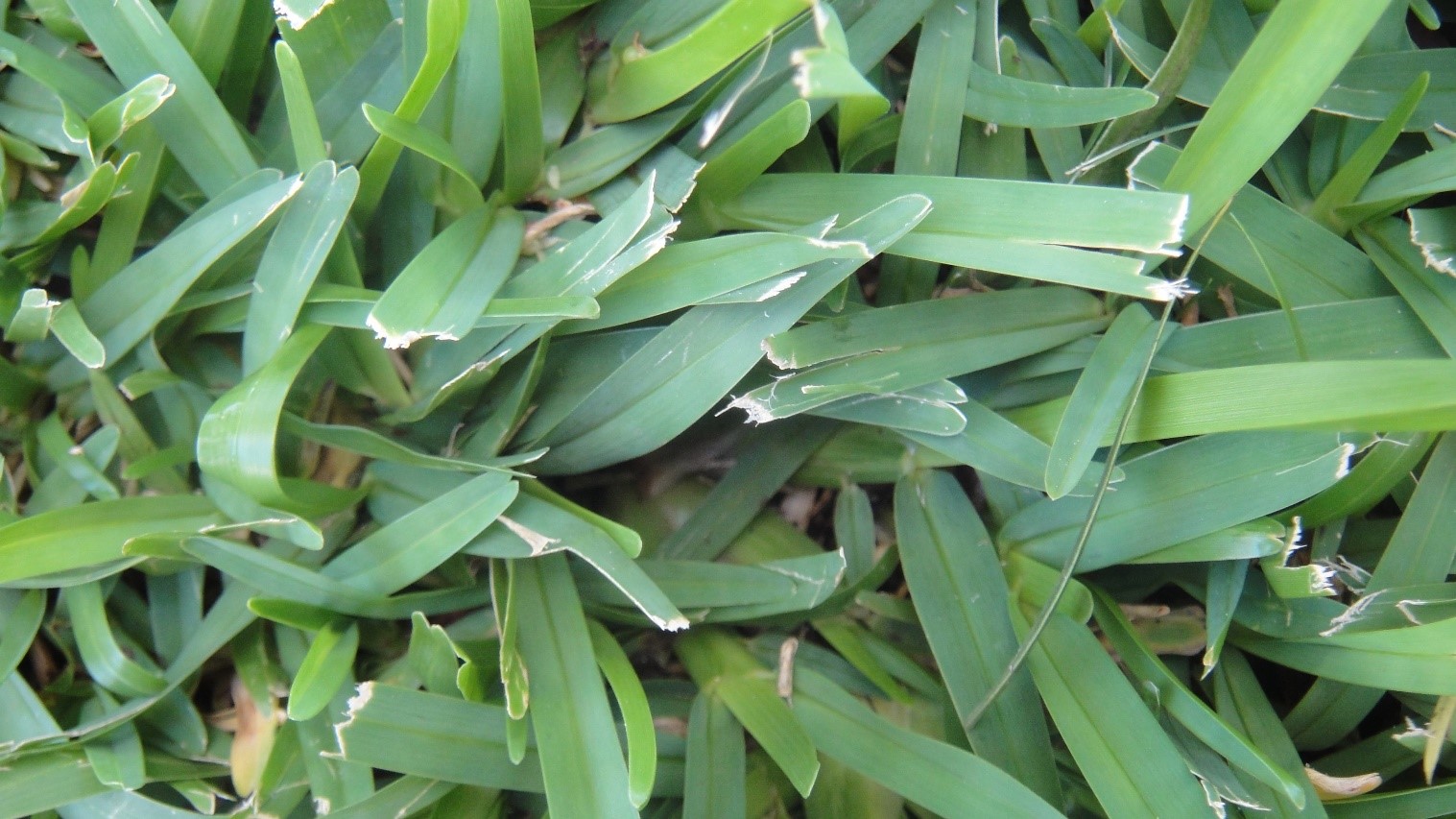 Centipede Grass comes with a light green color, coarse texture, and thin blades. It grows horizontally and not too tall, thus, requiring less mowing. It will only grow well in scorching areas when frequently watered. It prefers acidic and sandy soil and does not need much fertilizer.
This grass type may have a rougher texture, but it has a high tolerance to pests and weeds when cared for properly.
Centipede grass is low in maintenance in warm temperatures because it is a slow-growing grass. It needs full sun to grow well but can tolerate light to medium shade. It spreads through stolons to become a dense turfgrass.
It grows into a lush green lawn from late spring through summer and doesn't go fully dormant during winter. It needs frequent watering and is inactive during the drought months growing only in dry and hot areas. This grass requires less fertilizer than the rest of the warm-season grass.
Centipede Grass is often referred to as the "lazy man's grass" because it is low maintenance. All it needs to be healthy is regular watering and mowing. It, however, does not grow to q deep luscious green color.
Centipede Grass is popularly grown in the Southeast United States.
St. Augustine Grass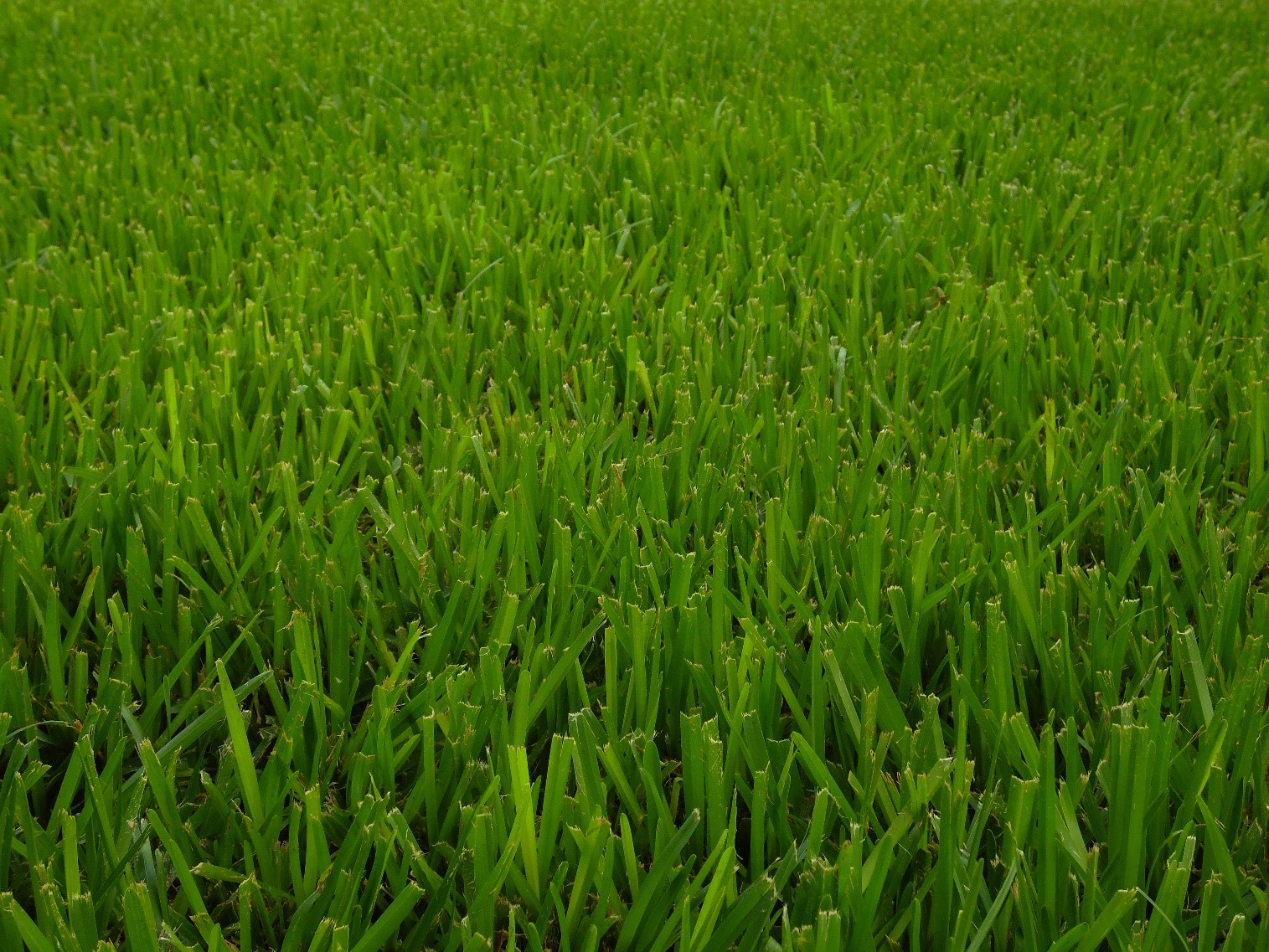 St. Augustine Grass is a blue-green color. It has coarse and broad leaves, as well as pointed tips. It grows well, even in hot areas.
Sandy soil provides excellent growth conditions for St. Augustine Grass. While it needs watering frequently, it can withstand heavy downpours. This type of grass grows to a thick lawn with a coarse lush.
While it isn't as cushiony and soft as other grass types, it can withstand high foot traffic.  It is easy to maintain and can provide adequate coverage even with minimal mowing. However, it cannot stand up to high foot traffic and drought issues.
This grass grows exceptionally well in hot coastal regions and Florida. It also grows well in coastal areas with slight winter temperatures and tolerates moderate shade.
Zoysia Grass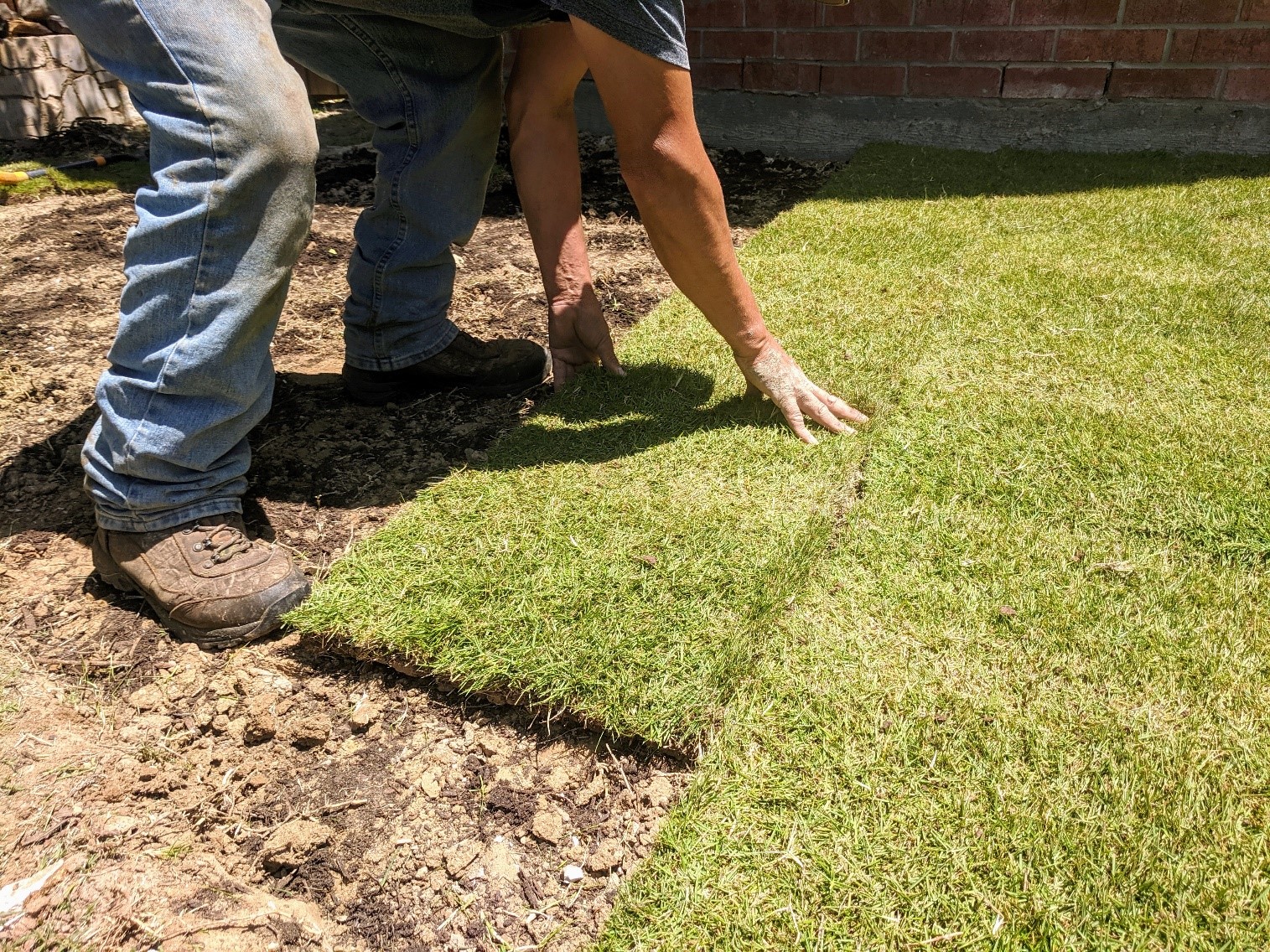 Zoysia Grass comes with coarse and stiff leaves. It grows in full sun but can withstand cold weather better than the rest of the warm-season grasses.  It is a green color for most of the year, turning green earlier than most grasses in spring and remaining green. Its growth period is from early spring up to late fall.
In the southern climates, Zoysia Grass can withstand drought and tolerate some shade. Further north, it requires full sun. It can also withstand drought conditions, is ideal for winter overseeding, and grows into a lush and dense mat with a soft feel.
This type of grass is an all-around grass because it can withstand high traffic. It is, therefore, ideal for play areas and golf courses.
Zoysia grass is low in maintenance; however, it may be difficult to mow. It prefers to be planted in sunny, warm, and well-drained areas.
Zoysia grass grows from the middle of the United States and east towards North and South Carolina. It is planted in some areas in the Northern United States but turns brown and dormant during the cold season.
Zoysia grass is slow-growing and can take about a year to create a lawn.
Cool Season Grasses 
Cool-season grasses are the hardiest type of grass because they can remain green even through the harsh winter months. They start to grow during the Fall and spring months. They grow in temperatures of between 18°C – 26°C (65°F and 80°F).
They will go dormant and turn brown with the summer heat and with insufficient water.
Grass Type
Appearance
Soil Type
Light
Requirement

Growing Season
Foot Traffic
Growing Habit
Bentgrass
Finely-textured and hardy
Narrow, flat blade

Well-maintained soil
Early Fall
High
stolons
Fescue
Medium-dark green
Folded
Sharp-pointed tip
Narrow blades
Most types
Full / Shade
Late summer to early fall
High
grows tall through rhizomes
Kentucky Bluegrass
dark green
soft V-shaped leaves

Well-drained soil
Full
Fall, spring, and winter
Light
Underground rhizomes
Perennial Ryegrass
dark-green color
Soft, thin, and pointed blades.

Most Types
Full
Fall through Spring
Moderate-High
Bentgrass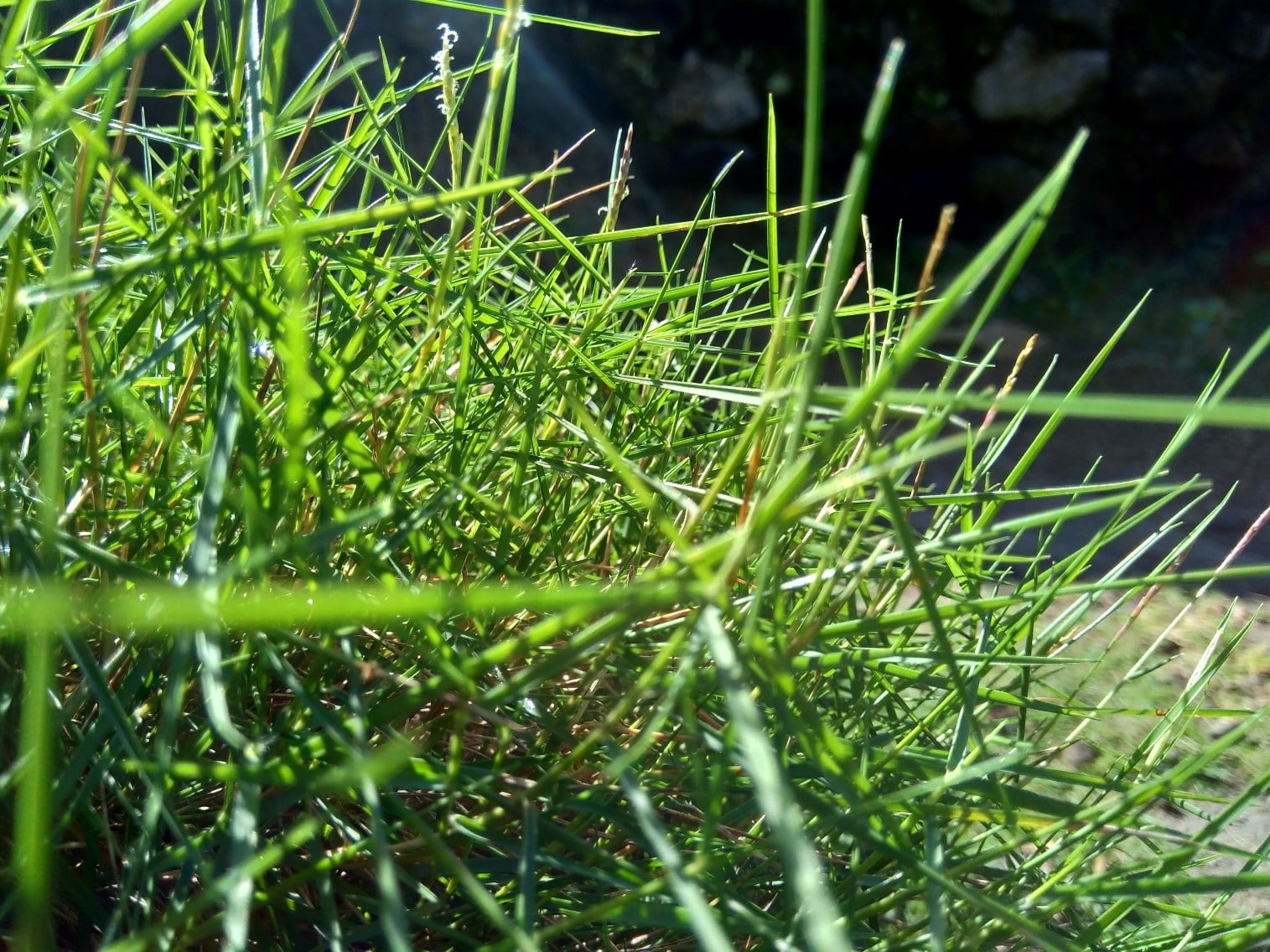 Bentgrass needs to be planted in well-maintained soil. It forms into a finely-textured dense turf and hardy grass that is tolerant to moderate shade and can also withstand high foot traffic.
Bentgrass comes with a flat and narrow blade and grows to only 1/10 of an inch.
Bentgrass can be mowed very low. However, it is very costly to maintain it as a home loan because it requires a piece of special mowing equipment. It also involves a lot of fertilizer, insecticides, and fungicides. It also needs to be watered every day.
Bentgrass grows through stolons.  It is used in many golf courses in the Northern United States.
Fescue Grass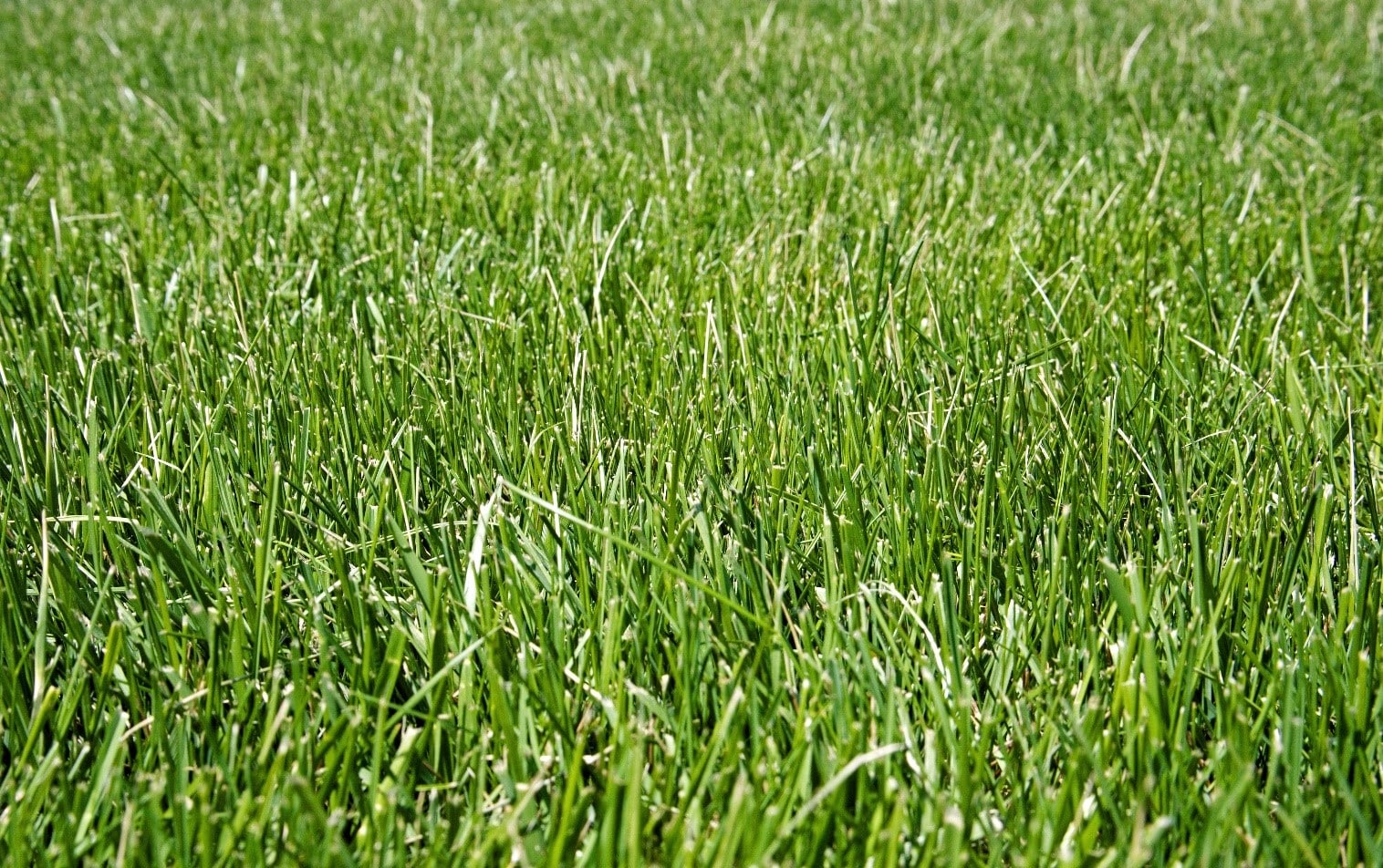 Most lawns in the Northern United States are a combination of Fescues, Ryegrass, and Kentucky bluegrass. Fine and tall fescues are often planted in combination with other cold-season grass because it can tolerate temperature swings.
Fescue is often planted with Bermuda grass, Ryegrass, or Bluegrass to enhance its hardiness. It can also grow in shaded areas and can withstand high foot traffic.
Fescues are fast-growing hardy grass with thin (less than 1.5 mm) and tall blades. They also come in a mix of soft and coarse texture. They grow tall through rhizomes.
Fescue Grass comes in 5 varieties: Chewings Fescue Grass, Hard Fescue Grass, Slender Fescue Grass, Sheep Fescue Grass, and Creeping Red Fescue Grass. Fescue grasses are commonly used in lawns, parks, and sports fields. They are also popular pasture grasses because they are top-quality animal feed.
Fescue Grasses are low in maintenance and popular – despite, however, not being too attractive.
Fescue Grass, depending on the variety, grows from the Northeast to North Central United States.
Kentucky Bluegrass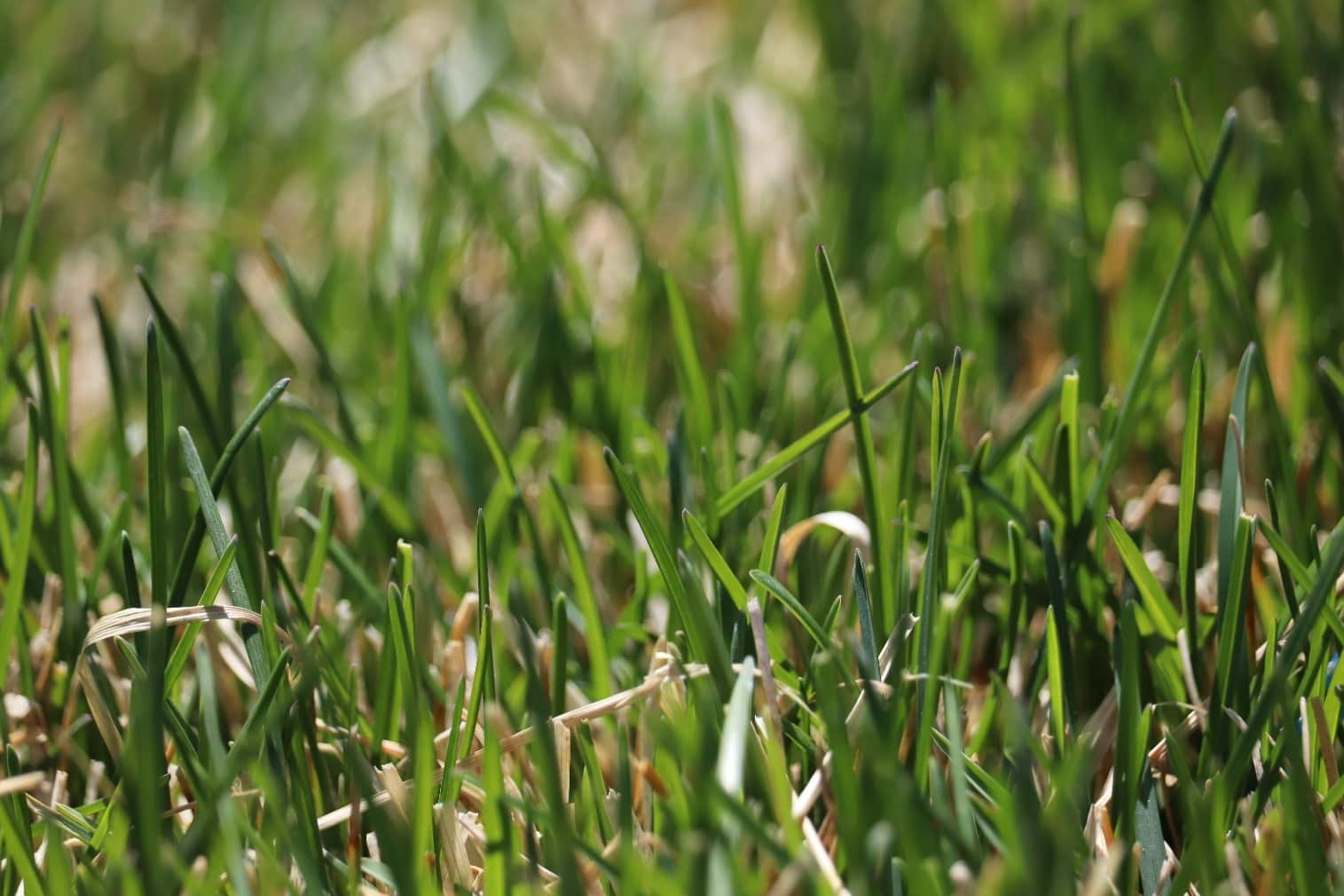 Kentucky Bluegrass is the most used cool-season grass. Many people opt for this type of grass because it produces hearty and healthy lawns. It grows well during the Fall, Spring, and Winter months. It becomes dormant during the Summer months.
While its name says "Bluegrass," this grass comes in a dark green color.  It also comes with soft V-shaped leaves.  Its blades grow to about 0.12 inches wide and 8 inches tall.
Although with soft leaves and a smooth texture, the Kentucky bluegrass can withstand lawnmowers and foot traffic.
This grass multiplies and spreads through underground rhizomes. It, however, grows slower than other types of grasses. Kentucky Bluegrass has a very low tolerance to shades but will give you one of the best lawns. This grass is "self-repairing," thus it grows on its own in damaged areas. It is called "Kentucky" because it was a famous perennial pasture grass and lawn in the Kentucky State.
That Bluegrass can give you a perfect lawn because it grows into a durable, green, lush, dense turf. Its seed is sold in the market as KBG.
Kentucky Bluegrass grows during the chilly months of Fall and Spring. It is popularly used in the Northern United States. It also thrives on the West Coast, in areas where the ocean can make the summer heat cooler. It also grows well in transitional spaces.  It requires full sun to develop.
Kentucky bluegrass is high in maintenance as compared to other cool-season grasses. However, its deep green lush is worth all the extra effort. Good soil, sunlight, and regular watering will give you an excellent bluegrass lawn.
Perennial Ryegrass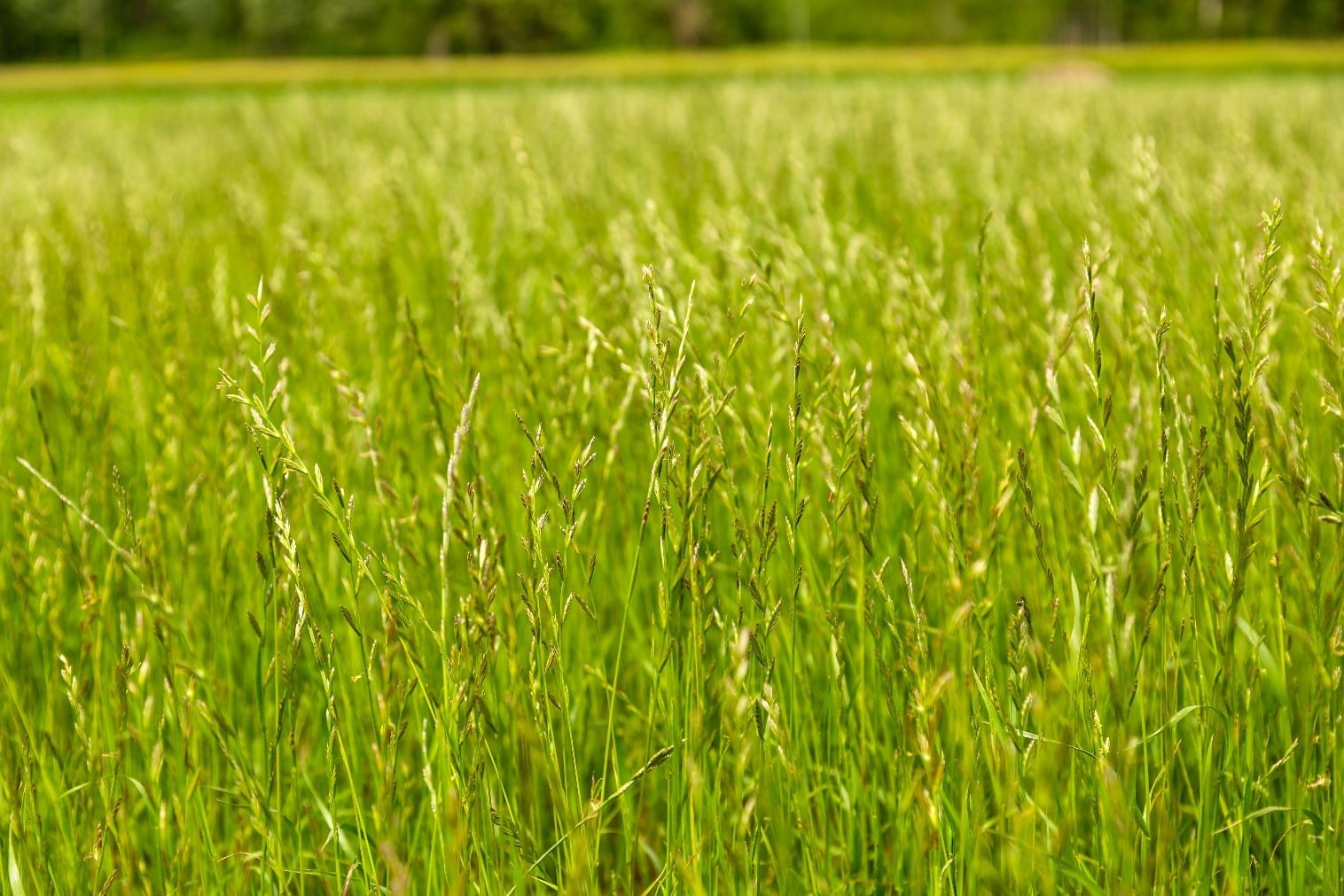 Perennial Ryegrass comes with a dark-green color. It is soft, thin, and has pointed blades. It thrives from Fall through Spring. This type of grass is popular because it grows well in the full sun and even in shaded areas. It multiplies quickly as compared to other cool-season grass.
Perennial Ryegrass is often planted together with Kentucky Bluegrass so it can tolerate shaded areas.
A downside of this type of grass is that it does not grow evenly. The grass grows thicker in some areas and creates green clumps that can make your lawn look patchy. Perennial Ryegrass grows in bunches and is also used for overseeding Bermuda grass when it becomes dormant.
Perennial Ryegrass is one of the most attractive types of grass. It can tolerate high traffic, making it suitable for golf courses and lawns in cold regions.
Perennial Ryegrass grows well from Fall through Spring. Mild summers and cold winters are the best climates for this type of grass.  But, as its name suggests, it can grow all-year-round without any replanting.
Perennial Ryegrass is popular in the Midwest. It is often planted with Bermuda grass in southern states to enjoy a lush lawn throughout the year.
Perennial Ryegrass is often the grass of choice for golf courses and tennis courts greens. They are great for cool and humid climates because they are resistant to fungal lawn diseases.
9 tips on How to Decide what Grass is Right For You
To give your lawn the best possible care, you must know what type of grass is right for your area.
How do you know what type of grass is right? Here are some tips to ensure you pick the right grass for your lawn. Making the right choice will not only allow you to enjoy a lush green lawn; it will also help you prevent any possible problems. 
1. Use the native grass type of your area. 
Using your area's native grass type will ensure the grass is suitable and thrive in your area's growing condition.
The growing condition focuses more on your area's climate, but other conditions need to be considered.  A grass variety may grow well in one area of the United States and encounter problems in other areas.
The type of climate has a significant impact on how well the grass will grow. This is the reason grasses are categorized as warm-season grass and cool-season grass. Some type of grasses, though, such as the Zoysia Grass and the Kentucky bluegrass grows well in transition zones.
Transitions zones are too hot in the summer months for cool-season grasses and too cold in the winter months for warm-season grasses.
The area where you live affects how a particular grass type will grow and perform:
Northern Zone. The Northern United States comes with cold winters and moderate summers. The best choices are Cool-season grasses such as Perennial Ryegrass, Tall Fescue, and Kentucky Bluegrass.
Southern Zone. The Southern United States comes with moderate winters and hot summers. Primary choices for warm-season grasses are Bermuda Grass, St Augustine Grass, Zoysia Grass, and Centipede Grass.
Transitional Zone. This region is characterized by cold winter months and hot summer months. This is the region that is most challenging for grasses. Warm-season grasses will be dormant and turn brown during the chilly months and prone to winter damage. Cool-season grasses will have to struggle in the heat during the summer months.
Bermuda grass, tall fescue, Kentucky bluegrass, and zoysia grass grow well in transition zones because they can tolerate heat and cold. They remain green throughout the year.
If you are not sure what types of grass will grow well in your area, consult a landscaping professional.
2. Consider the Conditions in your Yard
If your yard does not come with particular challenges, then any of the primary grasses that grow in your region will thrive in your lawn. However, if your yard is a problematic site, some grasses suitable in your area may or may not adapt to the specific conditions. 
Low-Input Sites. In areas where fertilizer or water is difficult to supply, the fescue and buffalo grass is an excellent North American choice. On the other hand, Centipede grass is the right choice for low-input areas in the Southeast United States.
Some types of grass grow well in full sunlight. Some grow well, even in varying conditions.
Shaded sites. The shade is also another condition to consider. Fescues grow better in shaded areas than bluegrasses. Most varieties of St Augustine in the South are shade-tolerant.
High-Traffic Sites. Blends of Perennial Ryegrass and Kentucky bluegrass in the North thrive even in high-traffic areas.
Companies selling grass seed packages mix with several varieties of grass selected for a particular site type. A package can, for example, contain seeds of multiple grass types for a specific site – dry, shady, sunny, or high foot traffic.
Seed companies come up with the best mixes in the right proportions. This will allow you to grow better-performing grass than if you planted a single type of grass.
3. Sunlight vs. Shade
Be aware of whether the grass you pick needs direct sunlight to grow or if it will grow even in a shaded area.
Some warm-season grass requires at least 8 hours of direct sunlight a day to grow and survive. If you intend to have your lawn in a shaded area, choose a grass type that will thrive even without direct sunlight.
Some cool-season grasses also require about 4 to 6 hours of direct sunlight a day. These types of grass are perfectly suited for shaded areas.
4. Consider the Purpose of your Lawn
A lawn can serve various purposes. Some can enhance the overall appearance of your home, while some are meant for gardening.
The wear and tear of the grass type is an important consideration. If you have kids who will use the lawn as a playing area or you intend to use your lawn to entertain guests, you should pick a grass variety that can tolerate high foot traffic and one that can quickly repair itself.
Tall Fescue and Perennial Ryegrass can withstand high foot traffic while the Kentucky bluegrass cannot. Bermuda grass and zoysia grass are warm-season grasses that will still look good and grow even with high foot traffic. The centipede grass will not.
5. Lawn Acidity
The type of soil in your areas also affects the type of grass you can grow on your lawn.
The type of soil in your area will also dictate the kind of grass from which to choose. A soil test can determine the right grass to grow in your area. Warm-season grasses thrive in different soil conditions. So do cool-season grasses. Have a soil test to select the right grass to grow on your lawn.
Lawns come with different acidity levels. Turfgrasses thrive on grounds with a pH level of between 6 and 7.5. There are, however, warm and cool-season grasses that can only thrive in specific pH levels.
Zoysia grass needs soil with an acidity level of between 5.5and 5.6. The Kentucky bluegrass needs an acidity level of between 6 and 7.5 to grow and survive.
Have a professional conduct a soil test to determine the level of acidity of your lawn.
6. Level of Maintenance
All types of grasses need different levels of maintenance. Maintaining a pristine and lush green lawn may require a lot of effort and time.
Maintaining a lawn requires watering, mowing, and adding some fertilizer.  Here is what to consider:
Centipede grass only needs to be fertilized once a year, but it cannot tolerate high foot traffic.
Bermuda grass needs frequent watering, mowing, and applying fertilizer, but it can tolerate high foot traffic and heat.
You will need to compromise because you will not find a low grass variety in maintenance but can withstand high foot traffic.
7. Seed vs. Sod
Seeds develop and grow in your law. Sods are cultivated somewhere else and installed in your yard and allowing them to take root. Grass seeds and sods need frequent watering.
Seeds are cheaper than sods. If you are willing to wait until your grass grows, then go for grass seeds. It is not just the waiting, but the hard ward that goes with it. You will forget all the hard work when you see your lush green yard.
Grass sods are costly because they are "grown grass" that is installed in your yard. They blossom as soon as they're installed, so you will not have to wait to enjoy your green and lush yard.
8. Strengths and Weaknesses of Each Grass Type
Learn all you can about the different types of grasses suitable for your area. It will help you make the right choice and give you an idea of what to expect from your grass.
Your knowledge of the type of grass will help you take better care of your lawn. It will also help you deal with challenging situations. You will even know how to maximize your yard without spending so much.
9. How Much Money Will Your Lawn Cost You?
Building and maintaining a lush green lawn can be a bit costly. The initial cost will be for the purchase of seeds and fertilizer or sods. Routine maintenance may also require some resources, like the purchase of a lawnmower, and a lot of your time.
The choice is entirely yours. You can pick a low-maintenance grass that will require less of your time and money. Higher-quality grass that is costlier is the ones that are usually low in maintenance and will last longer.
Do a little computation and check not just on the initial cost but also on the maintenance cost and time.
Your final choice may lean on the least expensive option or perhaps the mid-range or more costly option. It boils down to how much you are willing to spend to enhance the curb appeal of your home and to enjoy the beautiful sight of a lush green yard.
Final Thoughts
A lush green lawn is a beautiful and refreshing sight. It also enhances the beauty of your home. A nice yard is also an ideal and safe place for the kids to play. It can also be the envy of your friends and neighbors.
Who knows? It could even become a design dictator in the world of good looking gardens!
Before you can enjoy the perks of a lush green lawn, you will need to pick the right type of grass to match your area's climate and other conditions. The type of grass you choose should also fit the lifestyle of your family.
Be careful and ensure that you are making an educated decision.  You are creating a lush green lawn where you can be proud, and it starts with choosing the right type of grass.
Jenny Marie         
Tribal Writer
Edited by Patricia Godwin