Poppies are ancient flowering plants. They are one of the most desired flowering plants of many gardeners. Knowing how to grow poppies allows you to enjoy their beauty in your gardens and flower beds.
The eight tips on growing poppies are: they grow better in gardens, should be grown from seed, there are at least six varieties, plant them correctly, and at the right time, take care of them, harvest them frequently, and don't forget about propagation. They're easy to grow and need little or no maintenance.
How to Grow Poppies: Eight Top Tips Growing Poppies
Most people are familiar with poppy flowers. They are easily recognized with their papery, tissue-like blossoms that come in warm colors. Many gardeners have grown at least one variety of poppy.
Here are eight top tips on how to grow poppies:
1. Poppies Grow Better In Gardens
Poppies do better when grown in the garden rather than in containers. While they will grow in moist soils, they thrive best in well-drained soil that is acidic, alkaline, or neutral.
Annual poppies are often planted in a sunny, open area. Some poppies will need at least 6 hours of sun daily. Most varieties thrive in full sun. Most gardeners plant poppies as borders in their garden.
The seeds are sown on the well-prepared ground. You should also take steps to ensure birds are kept away while the poppy seeds are germinating.
Some poppy varieties grow up to 5 feet tall. Many varieties reseed easily, too. You should, therefore, plant poppies in an area in your garden where it is okay for them to return each year.
2. Plant the Poppies From Seeds
Poppies grow best when they are grown from seeds. Most poppy varieties self-seed once established.
The poppy flowering plant does not transplant well, so you will have to buy seeds instead of sprouted seedlings. You can buy common poppy seeds in garden stores. Make sure, though, to buy seeds from reputable stores to ensure they germinate and grow well.
3. Plant Different Kinds of Poppy Seeds
There are many varieties of poppy seeds.
• California Poppy. These poppies peak in the early summer. These cheerful flowers seem just to bloom overnight, covering large areas with their silky, bright petals and fern-like foliage.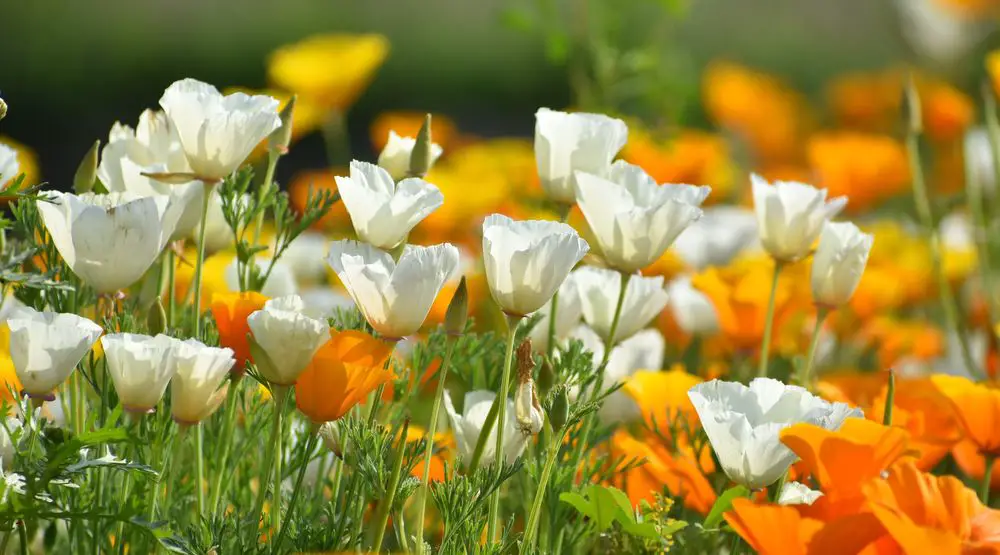 • Flanders Poppy. This flowering plant is an annual that self-seeds in a way that they perform as perennials.
• Shirley Poppy. This plant is a good landscape plant. It can have pink, orange, violet, yellow, and white flowers.
• Oriental Poppy. This is a perennial garden plant with red, orange, or salmon flowers. They bloom in June and July in northern gardens.
• Peony Poppy. Peony Poppies can add sparkle even to the blandest gardens. They grow deeply filled flowers.
• Iceland Poppy. This is a perennial that can tolerate cold winter temperatures. This flower requires a lot of care when grown from seed.
It is best to plant a couple of poppy varieties in your garden.
4. Plant Seeds the Right Way
To sow poppies into the garden, rake the area until smooth. Remove all rocks. Loosen the soil and scatter the poppy seeds on the ground. Do not cover the seeds because they need sunlight for germination.
If you are in an area with dry climates, you need to keep the seeds moist. Till the soil and add some rich compost when planting poppy varieties that require rich soil.
You do not need to add anything to the soil with poppy varieties that can thrive in infertile soil. Many poppies can grow well even in rocky terrain where other types of flowers cannot grow.
5. Plant Poppies at the Right Time
Poppy seeds need to undergo natural freezing and thawing cycles to germinate. It's possible if you sow them during the fall season. You can also sow poppy seeds in early spring, about a month before the last frost date.
You can sow poppy seeds in the fall in areas with mild winters. It will give the seeds more exposure to cooler temperatures before the warm weather in spring. In about 14 to 28 days, germination will begin.
Your poppy seeds will best germinate in well-draining and cool soils with a full sun.
6. Right Care For Your Poppies
It is important to keep the soil always moist but not soaked because the seeds may drown. You can water your poppies regularly but moderately once they are almost in bloom or are already blooming.
Once your poppies have flowered, water them only when the top inch of the soil is dry.
It is also important to thin out your poppy plants. Thinning helps your poppies to produce more flowers. You can thin your poppies by cutting the tops of the plant with scissors, so you do not disturb its roots.
You can also thin out your poppies when they start to sprout so you can give each plant plenty of room to grow.
Remove the buds when your plant starts to flower to continue to produce blooms.
Deadheading spent flowers is also important so your plant produces more blooms and enhances its appearance. Deadheading entails removing dead flowers from the plant.
7. Harvest Poppy Flowers Frequently
It is recommended that you harvest Poppy flowers frequently to encourage the production of more blooms.
Poppy flowers can be harvested to create beautiful flower arrangements. You should cut when the bud is starting to split open. The flowers will keep on cutting after harvest and will have a vase life of about 5 to 7 days.
The best place to cut poppy flowers is in a cool area without direct sunlight. Make sure the water is clean, too.
8. Propagation
Poppy seeds lying dormant in the soil for many years will germinate when the ground is cultivated, and the seeds are moved to the surface.
You can avoid deadheading after the flowering stage of annual poppies so they can set seed.
Poppy flowers can last for only a few days on the ground. Once the petals start dropping, the seeds of your poppy plants will dry. Allow the seeds to remain on the plant until the stalks turn beige.
The slits at the top of the poppy pod will open and release the poppy seeds. Gather and dry the heads, then shake off the seeds.
Final Thoughts on How to Grow Poppies
Poppy is the popular name of flowering plants from the subfamily Papaveroideae within the Papaveraceae family. Within this family of plants are annuals, biennials, and perennials.
Poppies are one of the prettiest flowers to grow in a garden. They are tough and versatile making them easily fit into traditional and modern gardens.
Knowing how to grow poppies allows you to have a garden filled with these pretty, colorful, and attractive flowering plants.
Poppies are universally known and loved. People recognize them instantly, and they have a great history regarding their unwitting and innocent entanglement with the first world war.
Jenny Marie
Tribal Writer
Edited By
Patricia Godwin