Homeowners spend so much time designing the patio, swimming pool, and other areas of their property. The front walkway also deserves the same time and attention.
An amazing front walkway serves as a transition from your garden to your home. It also connects all the elements of your front yard. A well-designed front walkway serves as your guests' first impression about your home, guiding them to your front door. Look at these outstanding 25 images and consider which is best for you and your home. 
1. Modest Concrete Walkway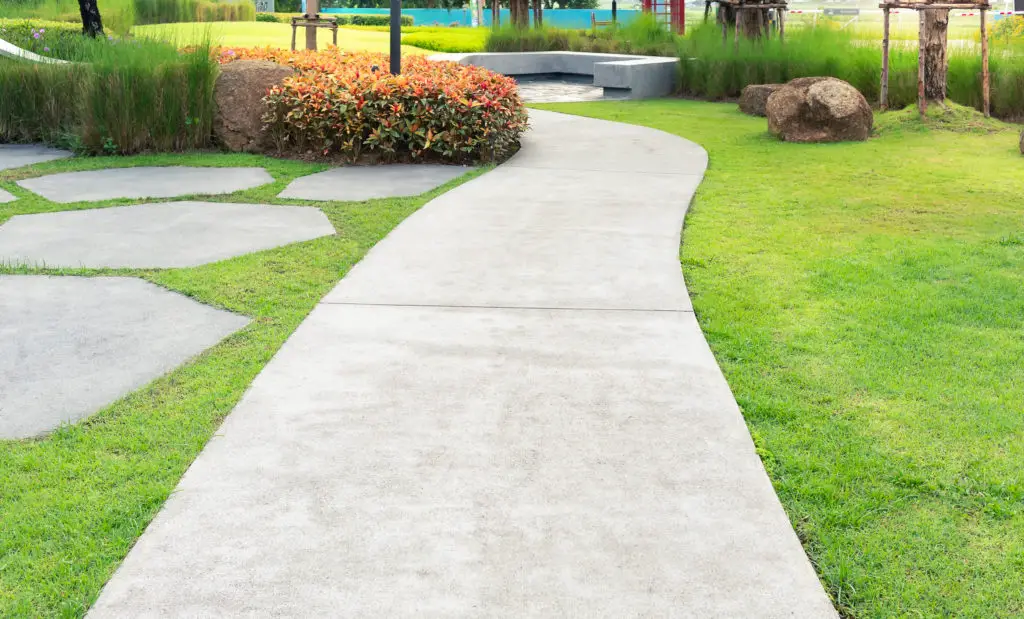 A simple concrete walkway is the easiest and fastest walkway to make. It only takes a few days to finish and does not cost too much.
Make sure to line your walkway with grass – and rocks if you like – for a hassle-free path where people can walk with ease and where kids can have safe bike rides, too.
Concrete walkways are durable and low in maintenance, so you can save money and time in the long term. You can also customize your concrete walkway to suit your style by opting for stamped or stained concrete. You can stamp unique designs on poured concrete to match your outdoor theme. ​
2. Basic Concrete Pavers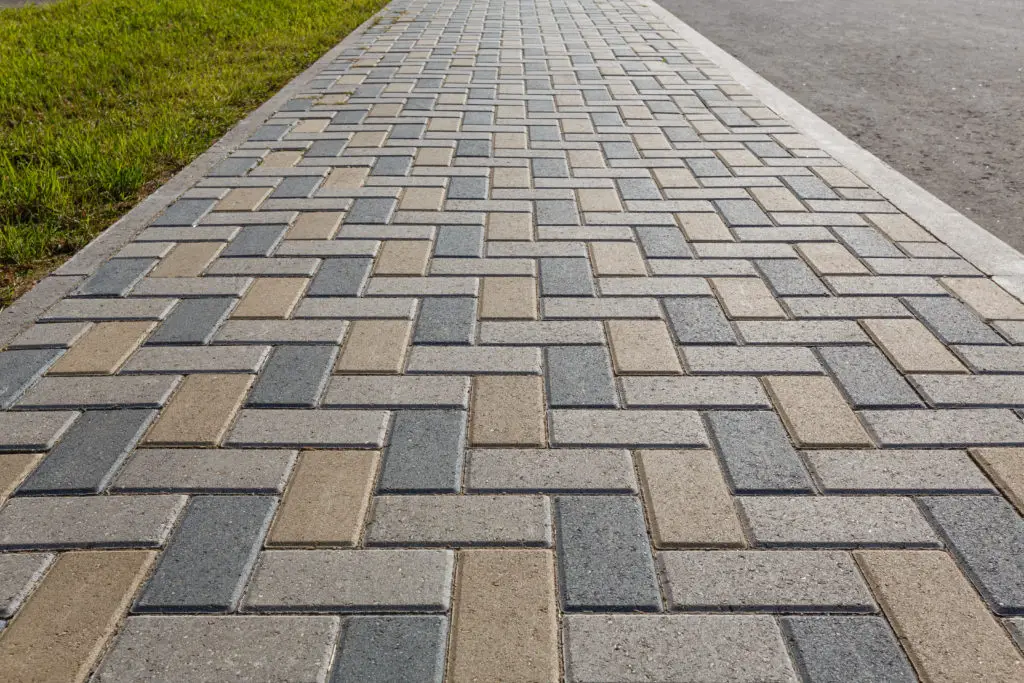 Concrete pavers are inexpensive and should be your best walkway option if you are on a budget but still want something innovative. They are also relatively easy to  to install, maintain, and repair.
Interlocking pavers are like Lego pieces, so each piece is easy to replace if it gets damaged.
3. Brick Pavers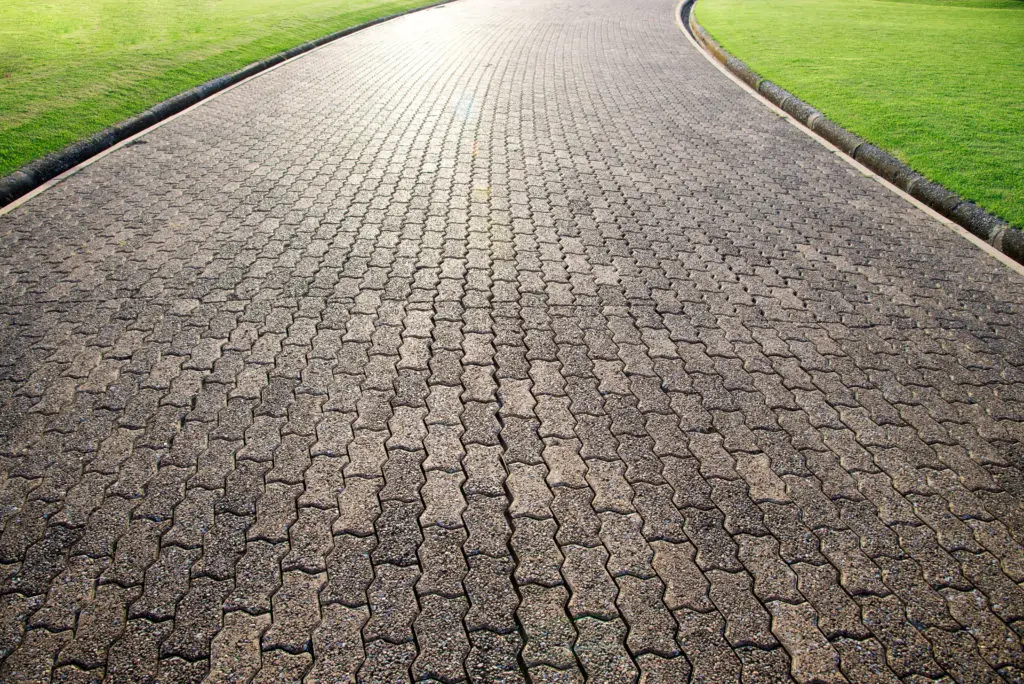 Brick pavers are unique. They are mostly made of clay. To give them their finished look, a wire is used, and some brick pavers are machine-pressed. Whatever the process, they still create awesome walkways!
Brick pavers are excellent entryways to your front door. They are stately in appearance and look well in traditional settings. Bricks can provide a bright color to a walkway,  making it all the more charming.
Most importantly, brick pavers have slip-resistant surfaces making them safe walkways.
In the above image, the brick pavers have been lined with a border on either side to give the walkway a timeless appeal.
4. Stepping Stone Path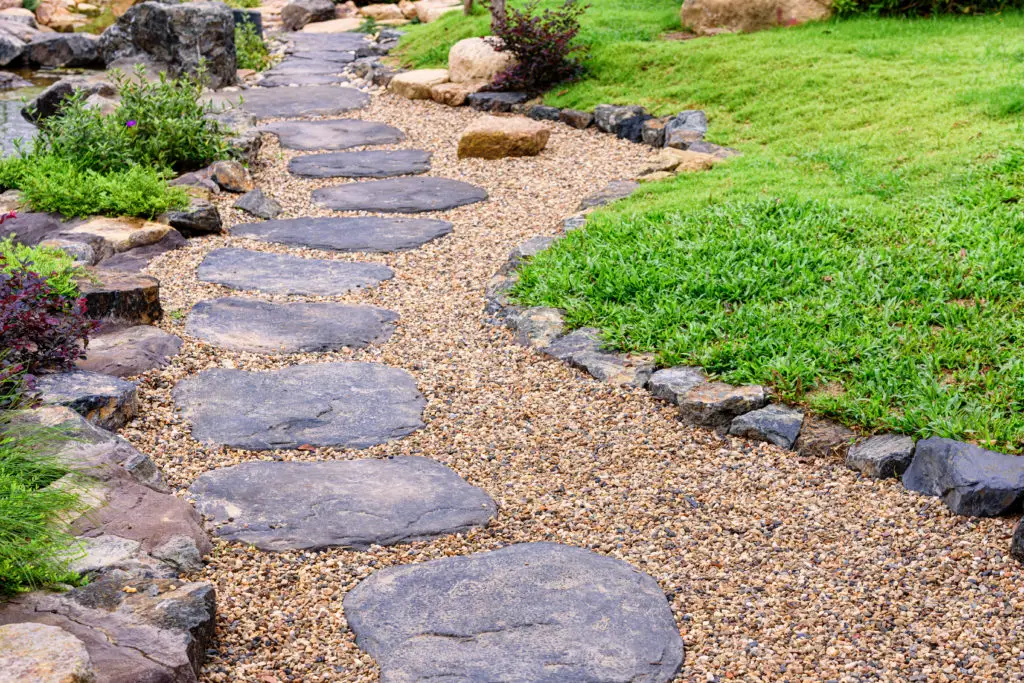 A stepping stone is an easy DIY walkway project even for beginners.
All you need to do is lay the large stones or flat rocks on top of the grass to form a comfortable and casual walkway. You can also sprinkle the path with some pebbles before laying the large stones for more drama.
Indeed, a stepping stone walkway is an easy DIY project for anybody – you could also plant small flat ground covering plants around them for that nostalgic country appeal.
5. Stone Murals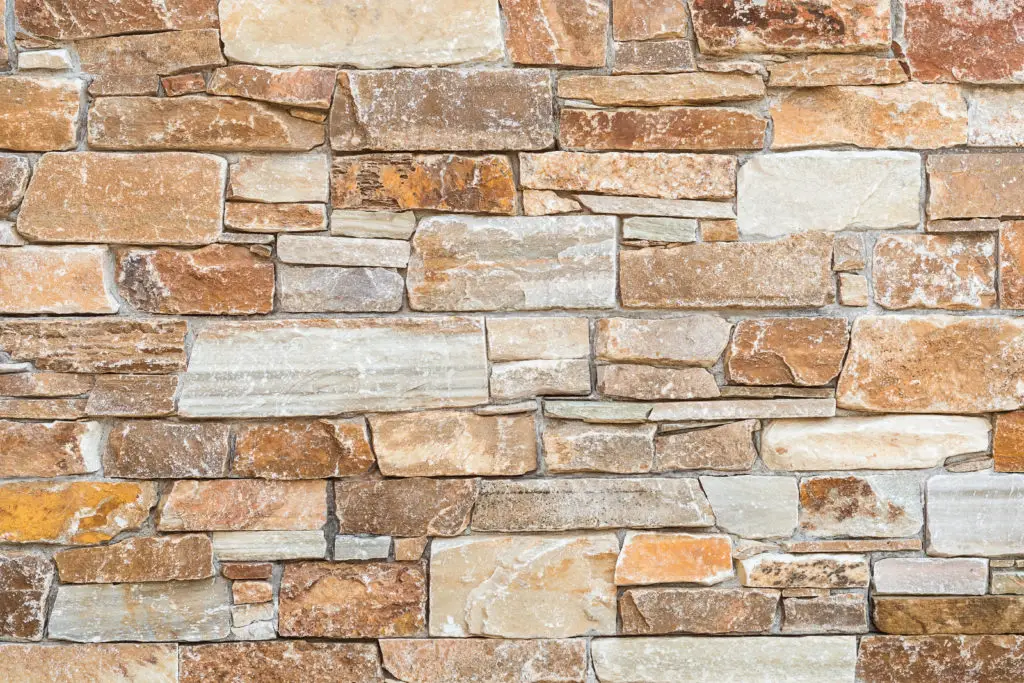 You can opt to add flair to your stepping stones by using stone murals.
You can create a whimsical walkway similar to the one above by centering the mural stepping stones on mulch. The stepping stone is made of paving stones that have been hand-painted with murals of varying designs.
These give your landscape a cool mood. The mulch brings out the bright colors of the stone murals. The straight nature of the walkway gives the landscape a cohesive look.
Creating a walkway with stepping stone murals is an excellent project for artists and aspiring artists to display their flair and creativity.
When you paint murals on stepping stones, you create a unique walkway customized to your tastes and interests. It gives an immediate indication of what type of person you are!
6. Pebbles and Flagstone Combination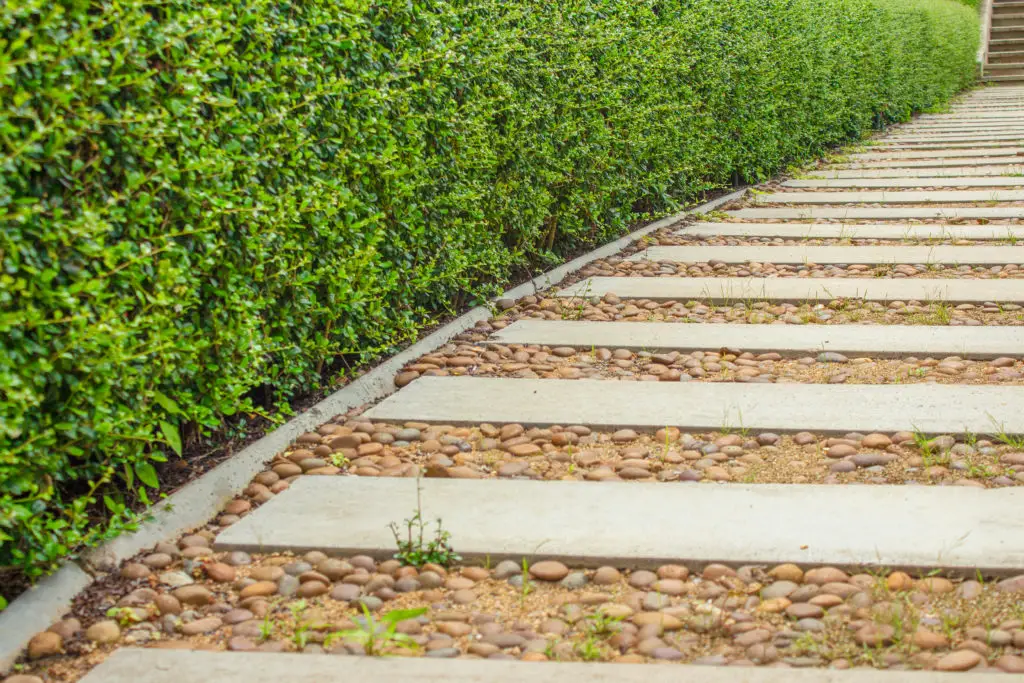 Combining pebbles and flagstone will create a dashing walkway. Pebbles are available in a wide range of earthy colors that can perfectly match the natural colors of flagstone.
A walkway made of pebbles and flagstone offers a striking contrast to the surrounding greenery in your garden. ​ 
7. Multi-Colored Clay Bricks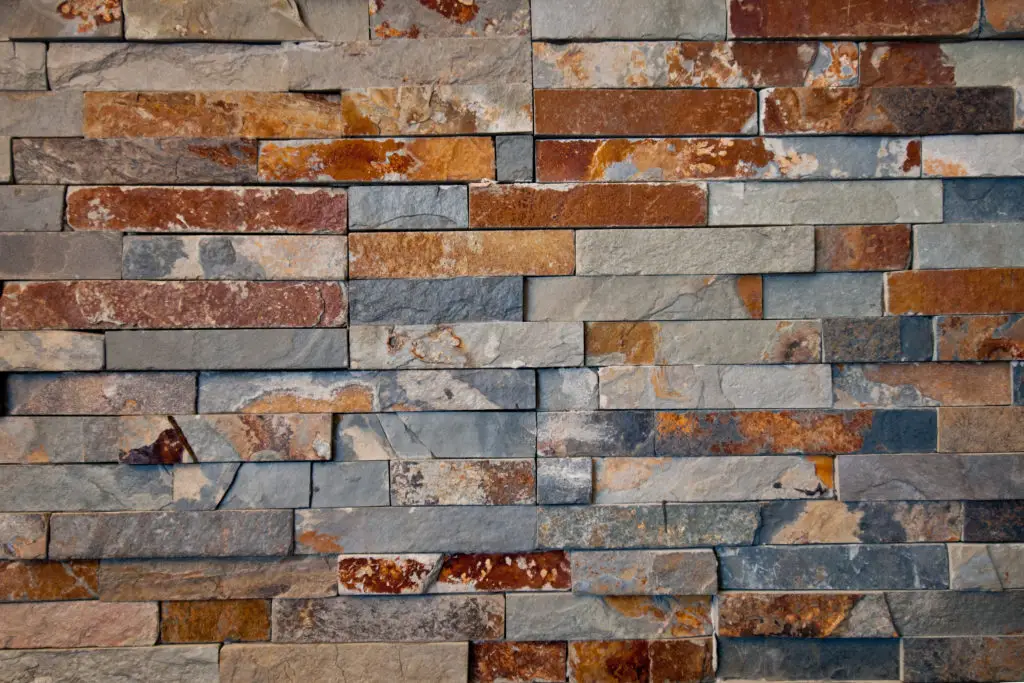 Clay bricks are available in many colors other than red. You can stack clay bricks of varying hues close together or leave some space in between bricks. Bricks are the best go-to material for pathways if you want a simple and basic walkway.
Clay bricks not only come in many hues, but they are also available in various shapes, so you can pick the color and shapes you like for your walkway.
8. Patterned Bricks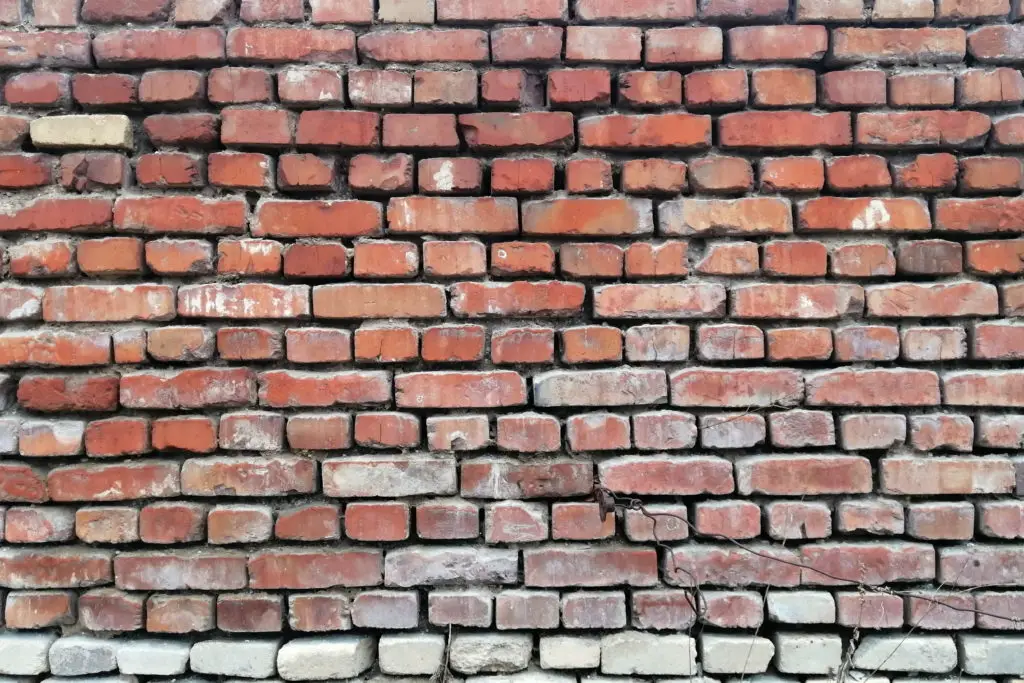 You can use bricks to create various patterns for your walkway. You are not limited to laying them in a straight row. The bricks above have been applied in a herringbone pattern to give your walkway a sophisticated look, even if you use a simple material.
The herringbone pattern can be achieved by proper measurement and laying the bricks in precision. No brick should be out of place because it will ruin the overall look of the walkway.
Bricks are an ideal material for many walkway ideas. Here the bricks were laid in a herringbone pattern. A border has been added to emphasize the herringbone pattern.  The earthy color of the bricks blends well with the landscape giving it a warm look.
You can use red bricks if you want your walkway to stand out against your landscape. Bricks can also be laid in different patterns, including running bond, stack bond, or basket-weave patterns.
9. Mulch-Bordered Walkway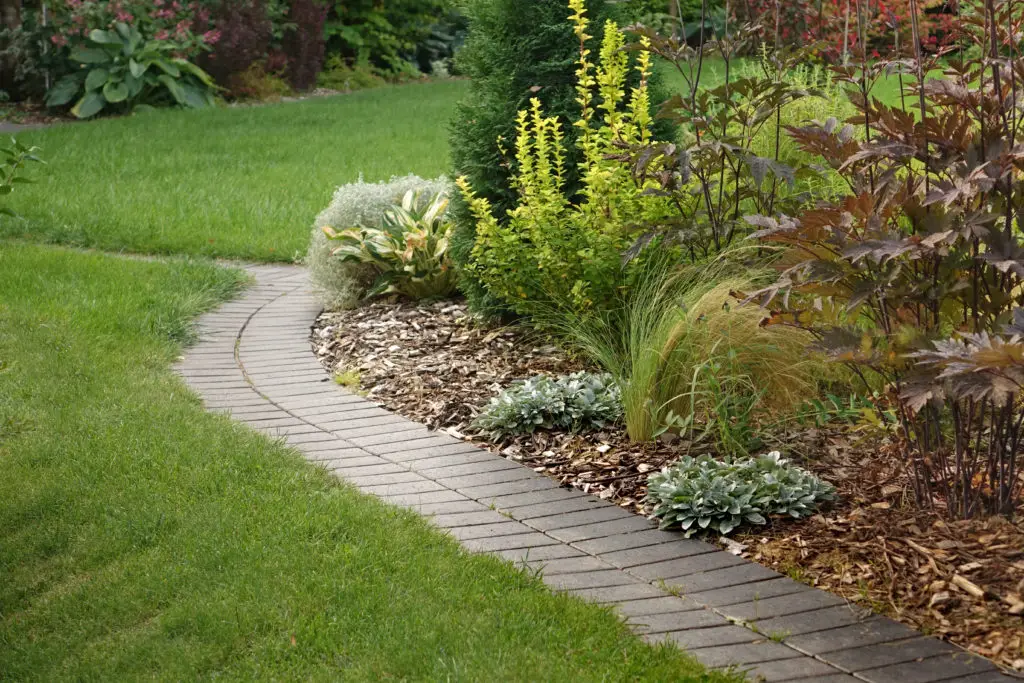 Other than rocks, mulch is one of the most budget-friendly options you can use with concrete, tiles, or bricks to create a customized straight or curved walkway.
You can combine several materials in different colors and shapes in one walkway and a mulch border to add an aesthetic value to your front landscape.
10. A Blend of Stone and Pebbles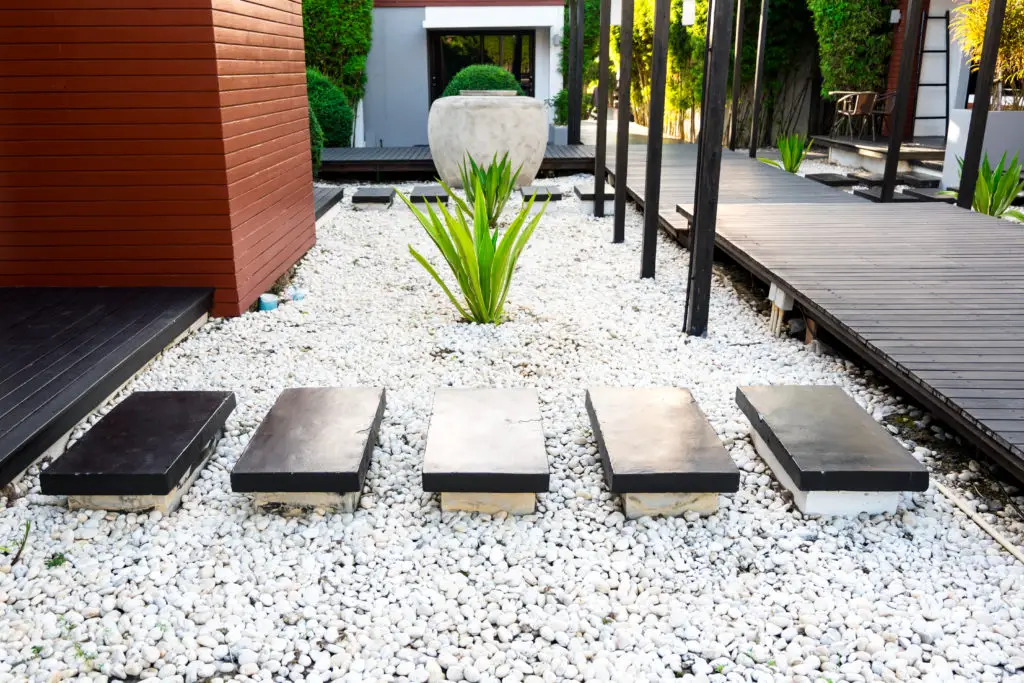 Natural stones and pebbles are some of the most fabulous combinations for walkways. If you want a more natural look, stones and pebbles are your best options.
Although harder to install, stones are more durable than concrete.
Here stepping stones and pebbles create an interesting layout for your front walkway.
11. Pebbles with Wood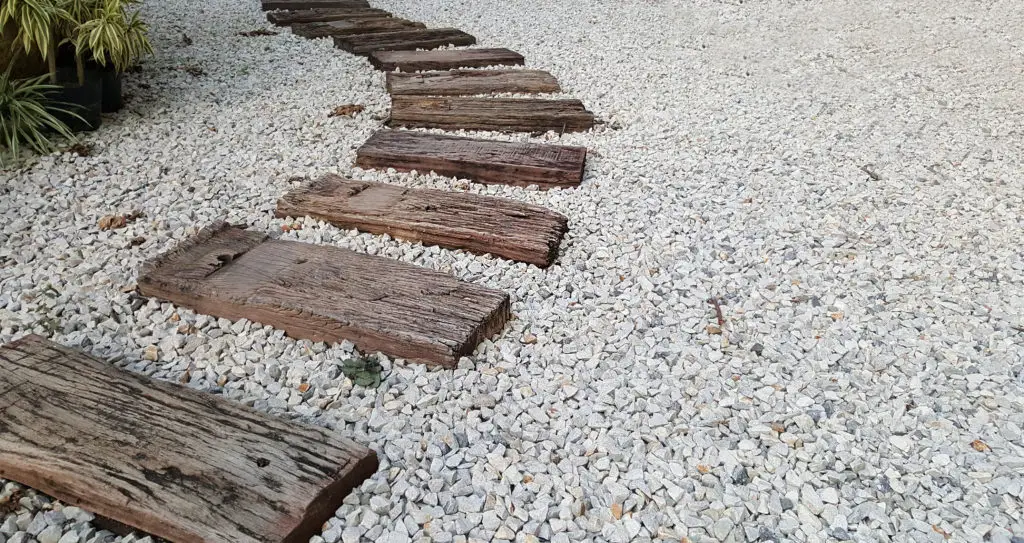 A combination of pebbles and wood for your walkway design is an opportunity to divert from limitations enforced by many man-made and modern elements for your landscape.
Here pallet woods function as steps laid on top of the pebbles. The pebbles and wood combination displayed here creates a warm and homely atmosphere for your front garden leading to your main door.
The pebbles can be arranged to create a straight or curved walkway.
12. Pavers over Pebbles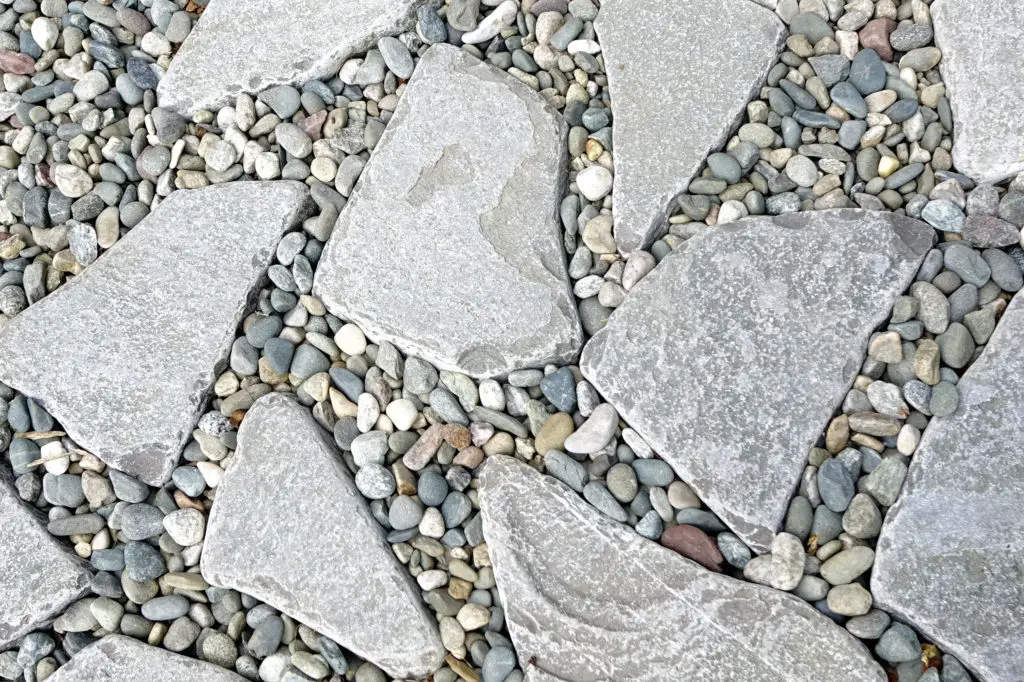 Laying pavers over pebbles creates a modern-looking walkway. The uniform shape of the pavers laid on top of the pebbles and gravel is one of your best options if you are going for a modern-designed walkway.
An added advantage is during a rainstorm, drainage is quick and efficient so that even during the rain, it's still easy to walk on the stepping stone pavers!​
13. Wood Pallet Garden Walk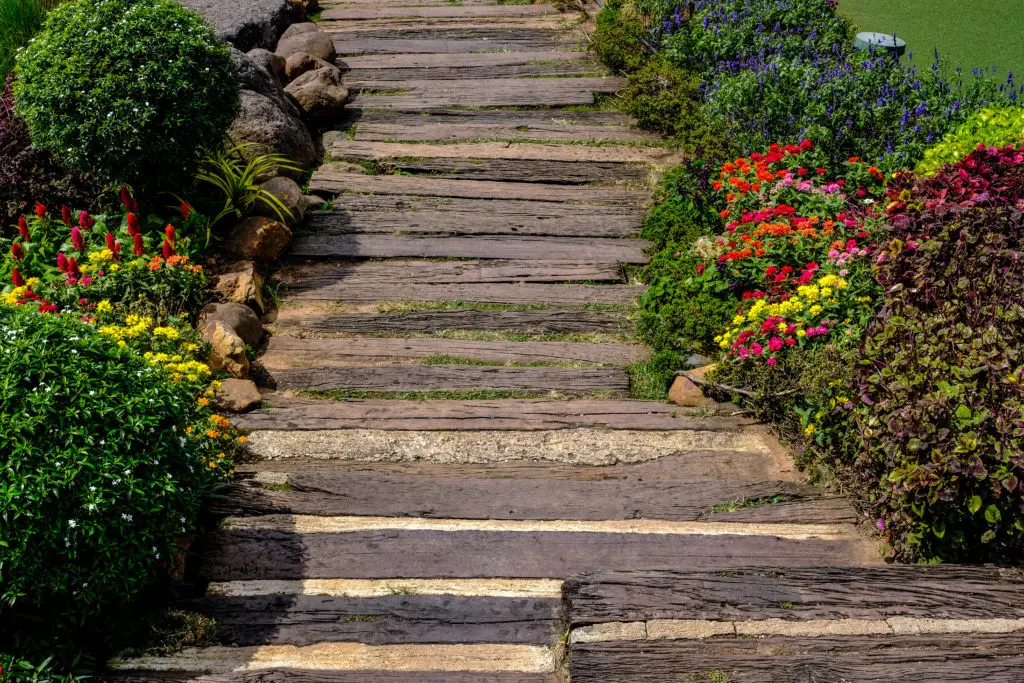 You can use a recycled wood pallet if you are creating a short front walkway. You can stack the wood pallets close to each other or have spaces between the pallets to allow plants to creep underneath.
It's a good idea to ensure that a good sealant is painted onto the pallets which will cause them to be more durable against the outside elements.
14. Mix and Match Concrete and Brick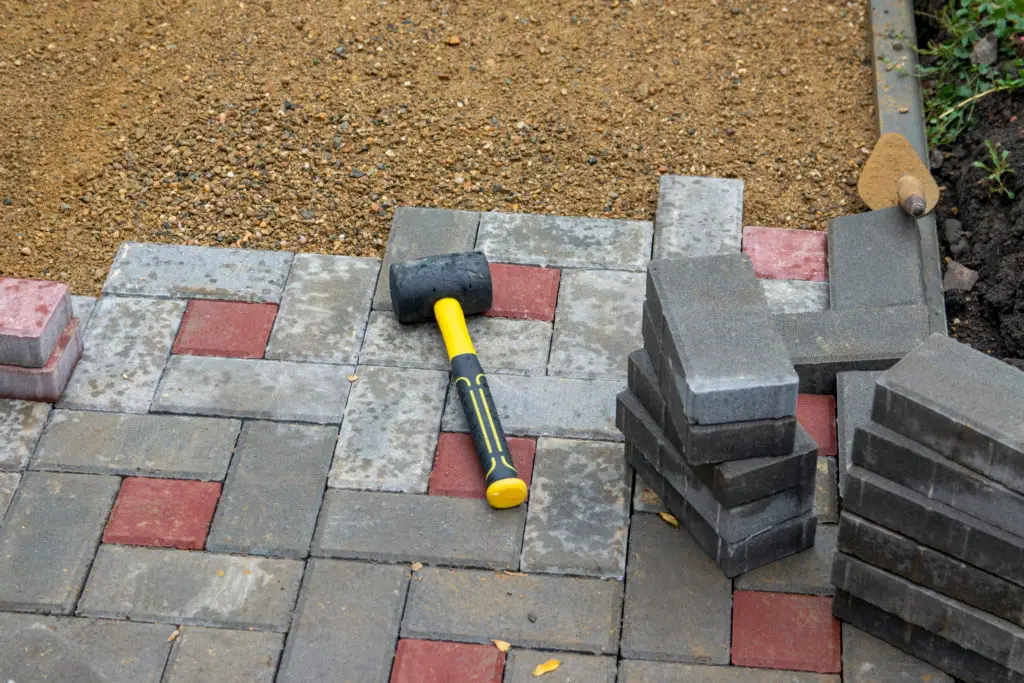 When you're mixing and matching concrete and brick to create an excellent front walkway idea it's very effective if you put a curve or two in your design. Here is a curved walkway design made of concrete and bordered with bricks on either side.
Bricks were also used to break the monotony of an otherwise long and tedious concrete walkway to create a welcoming and elegant entrance to your home.
15. Decorative Paving Slabs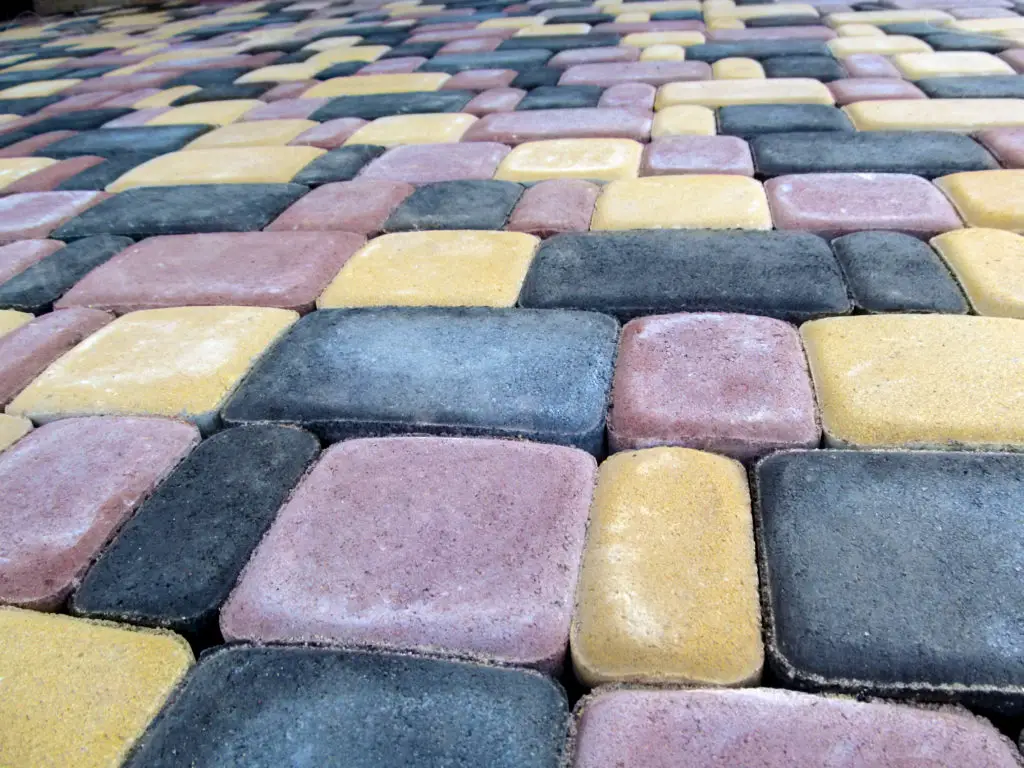 There are various paving slabs from which you can choose to create a walkway with a decorative pattern. Paving slabs are typically square and rectangular. This makes the laying thereof so much easier.
It is easy to create any pattern you want with paving slabs, even complex patterns. You do not need high-level DIY skills to lay paving slabs. Thus the material is a good choice for an impressive front walkway without spending on a professional landscaper.
With a little bit of thought and patience, this type of paving can be made robust but look inviting.
16. Recycled Wooden Planks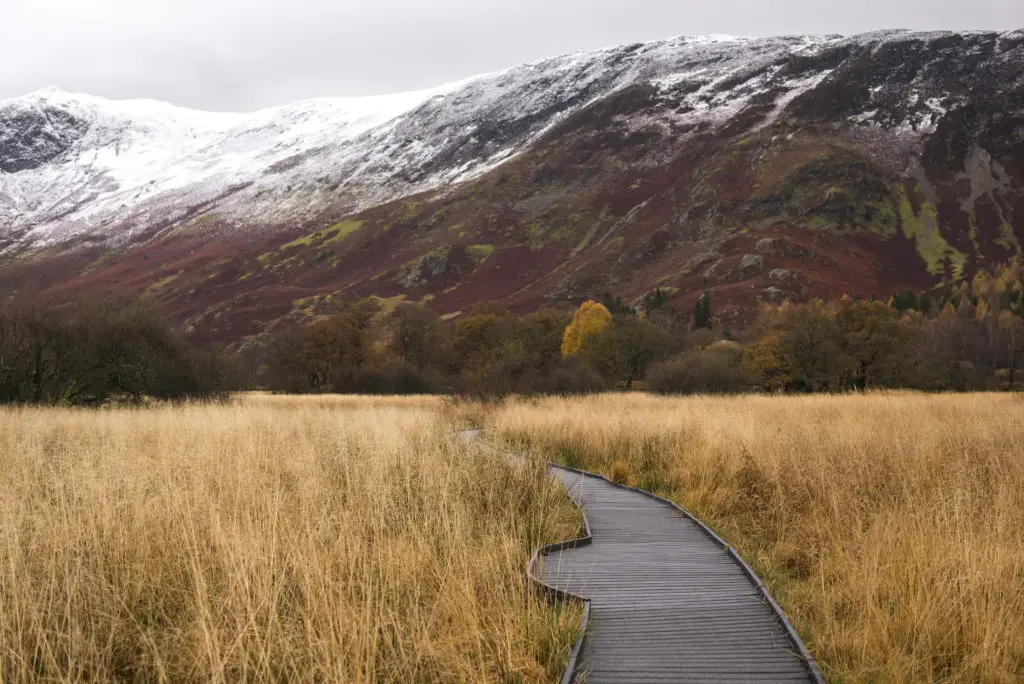 If you are working with a small budget, create a unique walkway using recycled wooden planks. You can use recycle wooden planks from your old bookcases that are just lying around in your basement or garage.
Shape your walkway based on the shape of your wooden planks. Dig holes in your lawn and tuck in the wooden planks.
Here the walkway uses wooden planks in their natural look. You can also opt to paint the wooden planks in a color that matches the theme of your landscape décor. You can be a bit playful and paint the wooden planks with any leftover paint in your garage.
17. Circular Paving Stones
Circular paving stones sporadically laid give an unusual and beautiful pattern for your walkway. It's a simple design that can easily be applied to your garden. You can dig circles on the lawn and embed the paving stones.
You can surround the circular paving stones with pebbles to make maintenance around the stones easier. The pebbles also prevent people from walking on the patches of the lawn between the stones.
As earlier suggested, if you really want a rural look your can plant flat ground covering plants between the circular paving stones and the pebbles.
18. Embedded Pavers
Stone pavers are embedded in a lush garden surrounded by shrubs and trees. You can embed the stone pavers about 6 to 8 inches apart.
In the above image, the stone pavers are in irregular shapes and are embedded in a manner that varies and is not a uniform pattern. It makes it all the more interesting as it winds its way up to the front door of your home. This design makes it all the more personable with an aura of old-world about it.
19. Brick Mosaics
You can make many unique patterns with bricks. One exciting way to unleash your creativity on your front walkway is by creating a unique design.
Here different sizes and shapes of bricks are used to form flower designs along the ground. The flower designs are also surrounded by bricks of uniform shapes to create a curved walkway.
This design offers several points of interest for your home. You can create mosaic designs laid at intervals in the walkway. You can also have one large brick mosaic design at a pivotal spot in the walkway and the rest of the path lined by a straight pattern.
Whatever you decide, this type of artistic mosaic walkway is unusual and most attractive, giving the owner an aura of charm and charisma.
20. Terracotta Walkway
Terracotta tiles are often associated with the Mediterranean and help to exude a feeling of a European vibe.
If you want to create this ambiance in your property, a terracotta walkway is a good option.
The straight nature of this walkway conveys a casual feel, although it was laid in a uniform fashion.
21. Bamboo Walkway
Bamboo is not a common material to use for a walkway, but nevertheless, it is a superb option.
Slots of bamboo are tied together to create a long "carpet" and fixed on the ground.
Another option is to create a bamboo bridge that will function as a walkway.
A bamboo bridge walkway does not require any digging because it is slightly elevated. Thus disturbance to the garden is minimized.
Interestingly, a basic bamboo walkway or a bamboo bridge walkway can be done as a DIY project, or you can hire a carpenter to do the job. You can also add handrails to the bamboo bridge for more authenticity and to make it a safe walkway.
22. Black Granite Walkway
This is a slightly curved walkway made of black granite. A dark stone can complement the greeneries in your lawn. The dark color of the stone can make your walkway the focal point of your garden.
This granite walkway makes a statement because it is quite imposing and makes an attractive and striking statement.
23. Mix and Match Pavers and Stones
Pavers and stones can create not only a walkway but a walkway that is a piece of art that can easily complement any landscape design.
The combination of pavers in white and stones in grey in different shapes and sizes are not only fun to make but also pleasing to the eye.
24. Multi-Colored Mosaic
Create a colorful mosaic walkway using tiles and brick borders. The tiles are painted with various designs. There are also 3D elements made of different materials to complete the artistic creation.
This mosaic walkway is a brilliant work of art. You can use your imagination to fashion any design you wish. Make sure that the design and colors you use do not clash with the look of your home's exterior.
This is definitely a statement pavement and shouts loudly to the one walking upon it. It's an intriguing announcement regarding the people in the house. A pathway so captivating and inviting is one that must be looked upon as an adventure!
25. Stamped Concrete Walkway
Stamped concrete transforms a regular slap of concrete to make it resemble pavers or natural stone. This curved concrete walkway is stained and stamped to make it look similar to a stone paver bordered with bricks.
The light tone of the stain is an ideal fit to highlight the bright colors of the flowering shrubs surrounding the walkway. The concrete stamping adds details to the concrete defining a great design.
Walkway Design Considerations

When redoing your existing walkway or building a new one due to a poor design or wear and tear, you need to do extensive research and planning. Here are some of the details you need to take into consideration.
Walkway Width

Whether your front walkway leads from the street or your gate to the front door, from the front lawn to the backyard, or from the driveway to the front door, it is important to determine its correct width.
Your walkway should be wide enough for two people to walk comfortably side-by-side. The best width for your front walkway is five feet. The width can be four feet but preferably not less.
Determining the length of your walkway is easier because you need to calculate the distance from the starting point to where you want the walkway to end.
The size of the walkway (width and length) should be proportionate to the size of your landscape and home.
The Shape of the Walkway
Take these into consideration when deciding on the shape of your walkway: 
If you have a small yard, go for a straight walkway.
If you have a large garden, go for a curved walkway.
If your home has a traditional or formal style, a straight walkway is your best
If your home has an informal style, you can have a curved walkway.
A straight walkway highlights your front door as the focal point.
Style of the Walkway

The style, materials, and structure, of your walkway, should blend in with the architectural design of your home. You do not want your walkway to stand out like a sore thumb.
A natural and flowing walkway (stepping stones, pallet wood, or mulch over the grass) will work well with a home with a rustic design.
Sleek and simple lines for your walkway are perfect if you have a modern home design.
Walkway Materials
The walkway adds enormously to the curb appeal of your home, so you should use materials that blend well with the exterior of your home. You can use materials such as concrete, bricks, stone, pavers, or Gravel. Each material comes with its unique characteristics.
Concrete can be etched, stamped, or stain to resemble any material. Walkways using poured concrete are easy to install.  Concrete, however, is prone to cracking and requires regular maintenance and frequent sealing.
Concrete Pavers look similar to clay bricks but are cheaper and easier to replace.  Pavers, especially interlocking pavers, are easy to install. They are ideal for curved walkways and exquisite designs because they are easy to curve and cut. They are also available in various colors, patterns, and sizes.  
Bricks do not easily crack. A single brick that gets damage can be easily removed and replaced.
Pebbles and Gravel are inexpensive. They are relatively durable when placed on top of any landscape fabric to prevent weeds from growing. Pebbles and Gravel need to be edged with stones or rocks to keep them in place.
Natural stones such as flagstones are common walkway materials. While they are durable, they are heavy and not suitable for a DIY job. They require more maintenance, too.
A concrete walkway will look great if your house comes with brick accents. Clay bricks work well for homes with rustic designs.
Make sure to choose the materials that can withstand the expected foot traffic of your walkway and the elements, as well.
Color Combination
Out of a combination of generally two or more materials, a most magnificent walkway can be created.
When choosing the material for your walkway, make sure the color matches the landscape and design of your home. There has to be harmony and balance between the walkway and your home.
Natural stepping stones, wood, and bricks in earthy tones are easy on the eye. You can opt for bolder colors when using pavers and poured concrete. You can also paint wood pallets in any color you wish!
Safety of the Walkway

The width and texture of the walkway should allow two people to easily move alongside each other when traversing your walkway.
Smooth and slick walkways can be slippery. Walkways with a lot of bumps can be a challenge for older people, younger kids, prams, wheelchairs and people who need the aid of walking sticks.
It is safer and easier to step on solid paving (stone or pavers and concrete) than to walk on Gravel or stepping stones. The material you choose should also have a non-slip surface.
Budget

The cost to make and install your walkway is also a consideration in making the final decision on the materials and design.
Some walkway materials and designs can be installed as a DIY project. An intricate design such as a mosaic walkway using Gravel and pebbles need the hands of a professional. A DIY walkway can be made of mulch or wood pallets.
Additional considerations to remember include: 
The walkway material and the walkway itself should be able to withstand severe freeze-thaw cycles.
The walkway should not accumulate a lot of de-icing salt.
The walkway should be stain-resistant and able to withstand common household.
With these in mind, you should be able to choose the best walkway for your property with confidently. 

Front Walkway Ideas 
Your walkway has a visual and functional purpose. While it adds to the curb appeal of your home, it keeps people away from other areas.
Seasoned realtors will tell you that homes with impressive entrances are easier to sell. They are faster to sell, too.
There are numerous innovative and unique front walkway ideas, so you should be able to find something easily that matches your landscaping design, home design, and taste.
Final Thoughts
Your walkway should not appear as an odd element in your landscape. A walkway connects the softscape and hardscape in your garden because both elements should intermingle in harmony.
Your choice of a front walkway design showcases your signature style, taste, and preference.
A fantastic front walkway can increase the curb appeal and value of your property. A walkway also excites your guests of what to expect in your home.
Your walkway should call out to be given the same attention as the other parts of your property.
The materials you choose for your walkway and the size, color, and style, should connect with all the other elements in your garden.
Browsing through these unique front walkway ideas allows you to find one that fits your property and personality. They inspire you to create your personal design.
We hope that you have fun with such a project. May you have all the inspiration, creation and stimulation that you need to make the right statement of a wonderful walkway that sits in harmony with your home.
Jenny Marie
Tribal Writer
Edited By
Patricia Godwin