With the variety of soil conditioners/potting mediums available for various types of plants, some people have a hard time deciding which one to use. There's quite a discussion about this, and it's taking place globally in the gardening world – and we're lending our voice to the debate.
There's no difference between Coconut Coir and Coco Peat. They're the same material, and both terms are fully interchangeable. They are eco-friendly and a natural by-product of the coconut farming industry. They're also good for the environment.
The Difference Between Coco Coir And Coco Peat And Rockwool vs Coco Coir.
Is Coco Coir The Same As Coco Peat?
For centuries, Peat moss has been harvested from bogs, and for centuries it has served its purpose as dead plant material piled on dead plant material. Once harvested, it's not coming back anytime soon. Coir comes from the shell and fibers of coconuts. It's renewable.
Please note that when dealing with any of the forms of Coco – below – you should wear garden gloves and a mask because of the chemicals. These by-products have been designed to be suitable for the garden and your plants -no guarantees for your health though, so play it safe.
Coco Peat is an eco-friendly option that includes the Coconut or Coco Coir's fibrous material. It's a natural by-product of the coconut farming industry.
If the material is not reused, the coconut husks will end up in the landfill. Therefore, the manufacturing of Coco Peat is good for the environment.
The addition of Coco Peat to soil aids with aeration and water retention. Coco Peat requires less water to achieve the same degree of hydration. Additionally, an extra advantage of Coco Peat is that you can wash and reuse it.
You might encounter several terms such as Coco Coir, Coco Peat, and even Rockwool for those who love gardening.
Coconut Noir is famous as a hydroponic growing medium and is widely used today as a soil conditioner.  In many instances, it's replacing the use of peat moss since both of them work as similar products.
Coir or Coconut fiber is becoming an all-natural soil alternative. It has long been used in hydroponic gardening due to its water retention, root supporting capability, and deterrence of certain diseases and fungus gnats. In most gardens, it works in the same way as sphagnum moss.
Coco Coir is 'the new guy on the block' and is a by-product of coconut processing. The fibrous husks of coconuts are ground or decomposed to produce a product similar to peat moss in texture and weight but darker in appearance. Its advantage is that it's renewable. It's great for growing veggies and suitable for plants both outdoors and indoors.
What Is The Difference Between Coco Coir And Coco Peat
Advantages of Coco Noir
Coco Coir is a by-product of coconut processing. The fibrous husks of coconuts are ground or decomposed to produce a product similar to peat moss in texture and weight but darker in appearance.
The coconut pith in which Coco Coir is made contains large amounts of lignin and cellulose that prevent the substance from shrinking and decomposing. It provides coir with the capability to hold more water.
It has a pH level of 5.8 to 6.8, which is near the neutral range favored by a wide variety of plants. It merely means that coir is well suited to various plants without requiring the addition of limestone to adjust the acidity level.
Coco Noir is an excellent option for mulch that ensures adequate drainage. It can also hold water to keep moisture accessible to your plants.
If you use coir as mulch, soften in water for at least 15 minutes to allow them to expand once adequately hydrated. Apply as you would any mulch in layers of 2-3 inches thick, but take care not to touch the plants with the mulch material.
Once the growing season ends, you can utilize Coco Coir again in the next season but make sure that you will allow it enough time to recondition properly.
Take note that the fibers can last for years without decomposing, so you need to remove any leftover debris and wash the material to prepare for reuse.
It would help if you used your hands to go through the Coco Coir to break it up and remove any remaining roots present.
If available, you can use an enzyme that can help break down and remove old roots from the Coco Coir before it is used again.
Wash the medium thoroughly in distilled water to flush out any leftover salts. Make sure that you will allow the Coco Coir to dry thoroughly before using it again.
Can You Mix Coco Coir With Potting Soil?
Depending on the plants you are planning to cultivate, you can combine Coco Coir with soil. We recommend using 80% Coco Coir to create a soil mixture with good drainage and can last for years without decomposing.
It is important to note that Coco Coir is often available in the market as bricks that you need to soak in water before use.
Carefully check the packaging instructions on the amount of water to use with your Coco Coir bricks and soak it in a large container.
The Coco Coir will expand up to 5 to 7 times its size once it is adequately hydrated.
Once thoroughly soaked, mix the Coco Coir using your hands to break up any clumps and separate the fibers.
Once any clumps are separated, mix them with the soil you are going to use. I recommend a ratio of half coco coir and half soil.
You can also add compost at this point if necessary or add one-part vermiculite or perlite to improve the soil drainage further. Once your soil mixture is thoroughly mixed, you can use it as your planting medium.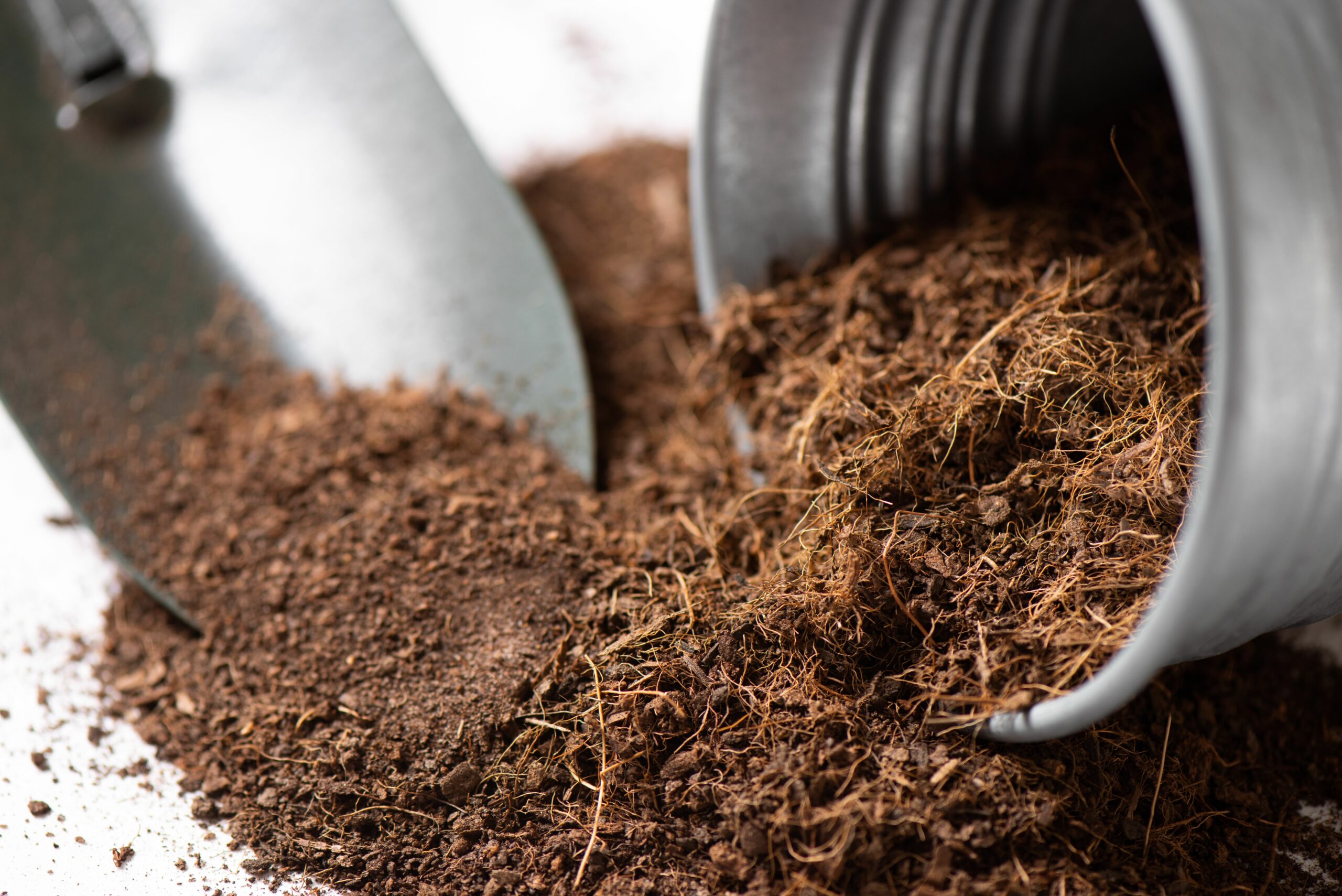 What is Rockwool?
If you have heard about Rockwool or Stonewool, it is growing in popularity as a plant medium. It is created from a silica-based rock that undergoes heat treatment and is spun until the materials resemble cotton candy.
Its main advantage is that it provides an excellent ratio of oxygen to water when providing nutrients to plants' roots. Just as with Coco Coir, it has a relatively neutral pH level and deters root-infesting insects from thriving in your plants.
When Using Rockwool, You Are Likely To Find Them In The Form Of Cubes.
Since you will find it in the market in this form, you can use the smaller cubes for seed starting and root cutting.
Later on, you can use the starter cubes for transplanting into large cubes. You can buy the smaller and larger cubes so they will fit well together.
In most cases, the big cubes have a 1-inch hole that conforms to the 1-inch starter cube. This design makes Rockwool cubes easy to use.
Rockwool cubes are widely used in hydroponic setups of flood and drain problems. The cubes are also compatible if you wish to transplant your cubes into other growing mediums such as deep water culture, nutrient film systems, and expanded clay.
Besides growing hydroponic cultivation, Rockwool can be used to start clones that are then planted into indoor containers and even in outdoor gardens.
What Are The Advantages Of Rockwool
Rockwool is good at holding water until it starts to dry out.
The material Rockwool is made of is consistent and therefore isn't required to adopt when dealing with a new batch of plants.
An ideal medium for growing in hydroponic systems
A Closer Look At The Differences Between Rockwool And Coco Coir Below:
Coco Coir
Coco Pith.
Similar to peat moss in properties boasting excellent water retention and high density.
Coco Fibers.
These are stringy bundles that promote oxygen flow but poor water retention.
Coco Chips.
These have excellent water retention and oxygen flow.
As the ideal soil-less media, it provides better yields and harvests than the traditional methods of cultivation.
Due to the loose nature of the media, plants' roots have adequate space to stretch out and have room for water and nutrient absorption, and stability.
The media is regarded as pH neutral with a range of 5.2 to 6.8. Coco Coir can lessen pathogens and weed growth and reduce the risks of damaging pests with its distinct properties.
Additionally, Coco Coir is a good choice for its reusable and earth-friendly properties.
Rockwool
Rockwool Is Also Known As Stonewool Or Mineral Wool.
The application of Rockwool ranges from horticulture, music, and even in the construction industries, making it a highly versatile product.
Depending on the specific rock and minerals used in the material's production, three main types of Rockwool are glass, stone, and ceramic.
In the commercial hydroponic industry, stone wool is a suitable material to use.
In hydroponic applications, Rockwool has various benefits. It is a popular choice for its durability and will not break down during the growing season since it is made of stone and hard minerals.
You do not have to worry about clogged systems and maintenance of the media during the growing season.
It can be broken down into customized shapes and sizes to meet the specific needs of plants. Additionally, the material is lightweight and easy to store.
Both Coco Coir and Rockwool have distinct properties that set them apart. The two mediums boast good points that make them suitable choices in the commercial hydroponic industry.
Depending on the plants you want to grow, learn the plant's specific needs and individual setups.
Remember that each medium is different and what works best for one will not work for another.
Final Thoughts
If you want to ensure the appropriate growing medium for your plants, learning the popular types' differences is essential.
Both Coco Coir and Rockwool are gaining popularity for their properties that promote better growth of plants, but each has its share of advantages.
Depending on the type of plants you want to cultivate, familiarising yourself with the various growing mediums is a good starting point.
Corinne A
Tribal Writer
Edited by
Patricia Godwin